3D laparoscopic surgery to repair the diaphragm defect in children
02/07/2019 07:36
Doctors of Pediatric and Neonatal Surgery Department – Viet Duc University Hospital shared they just successfully treated "Weakness" right diaphragm for a 3 months old male patient using high technique of 3D laparoscopic surgery via thoracotomy. Child comes to hospital because of many times pneumonia, and finally admitted to Viet Duc University Hospital, with clinical diagnose of weakness right diaphragm.
Dr. Nguyen Viet Hoa, MD, PhD – Chief of Pediatric and Neonatal Surgery Department– Viet Duc University Hospital said : Clinical diagnosis of weakness right diaphragm usually difficult because no specific signs due to the liver is near. Children come with symptoms of respiratory failure, numerous pneumonia, digestive disorders, gaining weight slowly or accidentally detected the disease through other illness. The disease can be wrongly identified and diagnosed with isolated lung, cyst at inferior lobe of lung, abnormality of lung gland… because of similar symptoms .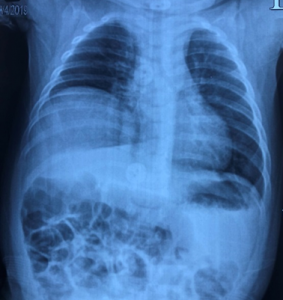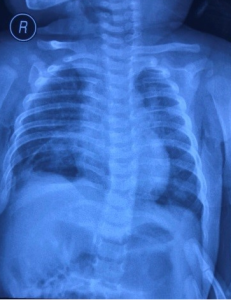 X-ray film of pre and post surgery
The main treatment method of disease is to perform the reconstructive surgery to repair the diaphragm defect. The suture of diaphragm through video-assisted thoracotomy in infant and new born is a challenge, which requires special anesthesia and surgical care, modern surgical equipment as well as skilled surgeon. Complications might occur during and after surgery such as bleeding, infection, hemopneumothorax, recurrence of disease, respiratory distress with patient should be ventilated and stay longer. At the Pediatric and Neonatal Surgery Department of Viet Duc University Hospital, laparoscopic surgery to manage the congenital diaphragm hernia  for infants has become a routine, 3D  laparoscopic surgery application with advantages of clear image for deep look, reality view much better compares to 2D laparoscopy surgery, making procedures easier, reducing the duration of surgery and giving a better result.
Social Work Department