Medical miracle
18/05/2018 10:09
The man who has had 23 kilos of tumour removed from his body says he is hoping for a much better quality of life in the future.
Nguyễn Văn Sơn, 34, from central Nghệ An Province underwent eight hours of surgery at the Việt Đức Hospital in Hà Nội last month.
Sơn has suffered from neurofibromatosis since birth. It is a set of genetic disorders affecting almost every organ system and causing tumour growth throughout the body.
His tumour started to develop quickly eight years ago and before the surgery, the tumour weighed 45 kilos and had spread to his buttocks, back and almost his entire left thigh.
It weighed so much it had broken his hip bone and left him unable to walk properly.
This week he was taken off of the intensive care unit and is recovering in a normal ward.
Sơn said he felt much better now.
"The pain has been reduced so much. Before I cannot live a day without painkillers and now I don't need to take them any longer," he said.
However, Associate Professor and Dr Nguyễn Hồng Hà, head of the Department of Maxillofacial, Plastic and Aesthetic Surgery, said Sơn still faced a tough road ahead.
"It was a very big surgery, so now we are still monitoring him for possible infections and whether the tumour would develop into cancer or not," he said.
"Depending on his recovery, Sơn could be back in the operating theatre in three to six months' time to have the rest of the tumour removed."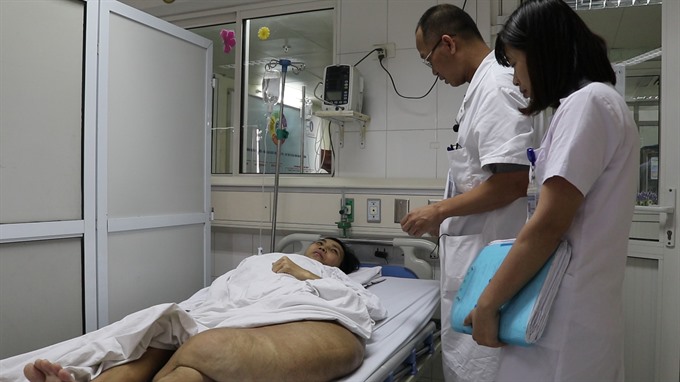 Besides facing another life-threatening operation, Sơn, who hails from a poor farming family, must also deal with a huge financial burden for his treatment.
"The cost for the surgeries and his whole treatment are a lot so we are looking for financial aids to support him," said Dr Sơn.
Despite all the adversity, Sơn is optimistic about his future.
"I hope my life would change. I may find a job to earn my living and don't need to depend on anyone else," he said. — VNS
Thu Hà/Vietnam News