Oncology Department
Oncology Department
INTRODUCE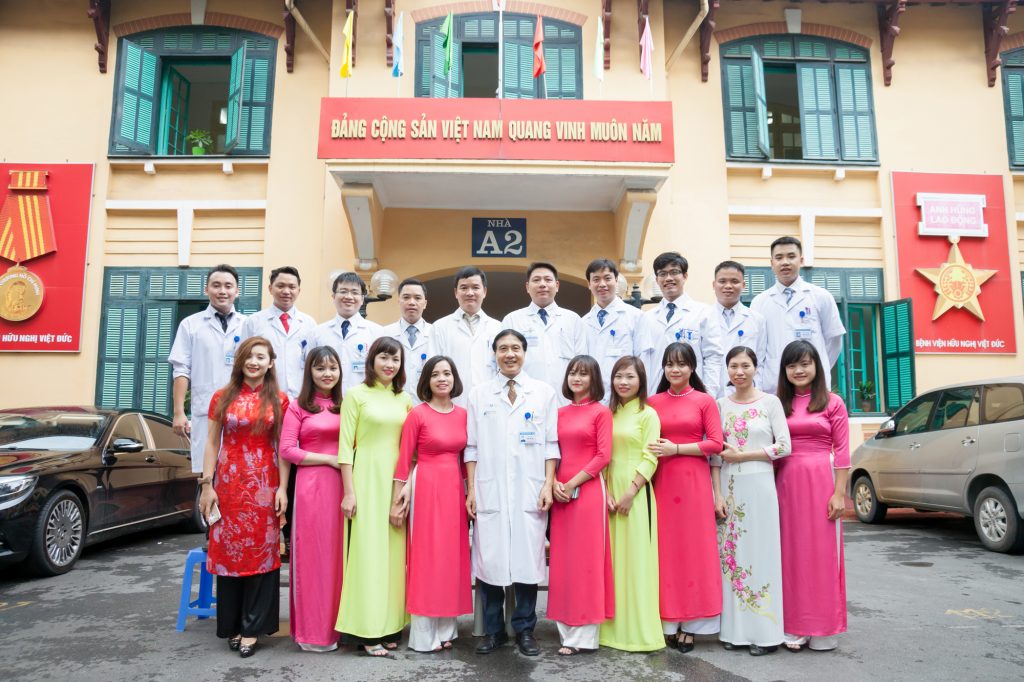 1. Official name: ONCOLOGY DEPARTMENT
       2. Contact:
       Address: 8th floor, D building –Viet Duc Hospital
       Consultation room: Room 802 – 8th floor – Building D
       Phone number: 043.8253531 (Ext: 571)
       History:
       Facing challenges of overloading burden of oncological diseases and aiming to meet the actual demand of "complete care" from patients and their family, Director Board of Viet Duc hospital made the Decision No246 / QĐ – VĐ on 27 February 2013 about the establishment of Oncology Department. However, due to some facility troublestroubles, since 01 June 2015, Oncology Department has begun providing the actual health care activities to patients. 
       4. Personnels:
       Head of department:Professor. Trinh Hong Son
       Vice head:
       M.D. Pham Gia Anh
       Head nurse:
       Mr. Pham Tien Hai
       Others: 22 staffs
       07 physicians
        15 nurses
        01 computer staff
Achievement:
       Being very young in age but our Department is established from experienced experts and physicians that are mostly trained abroad like France, Italy, United States of America… and we are led by a Professor  who is well-known not only in the national level but also worldwide about his talent on surgical skills and his dedicated care to patient.
       Before providing actual health care to patients, we had a good preparation about the facility and also workforce such as sending physicians to study and to get the professional certificate of oncological treatment including surgery and chemotherapy. Our objective is to assure the quality of heath care and patient safety as long as to aim to the satisfaction of patients and their family and we actually received positve feedbacks both from inside and outside the hospital.
       In one year of working (from June 2015 to June 2016), we provided care to 1600 in-patients, 750 programmed operations. Many of them are very difficult cases like liver cancer, pancreatic cancer, gastric cancer, colo-rectal cancer…, especially complicated cases from peripheric hospitals, more than 90 years-old patients.
      We regularly celebrated multi-disciplinary consultation according to international standards for some complicated cases and aimed to make this activity become routine.
       We standardized our daily care to protocols including administration, nursing cares, surgical procedures… And we used those protocols to assess and to improve the quality of our service by performing studies in many single issues we met in work.
Development trend:
      Create and update treatment protocols incincludinguding surgery and chemotherapy in order to provide a "complete care" to patients aiming to the satisfaction of patients and their family.
       Make continous formation/ training in dosmetic and abroad level to be updated and to assure the quality of care.
       Steps by steps, implement various health care services to meet the demands of patients and their family in a reasonable way.
       Study, update and apply those knowledge in patient care to assure patients' legitimate rights.
       Participate actively to research activities at hospital and also at higher level 
Consultation schedule (changeable due to actual activities)
       Monday: Dr.Bui Trung Nghia
       Tuesday: Dr Nguyen Truong Giang
       Wednesday: Dr. Cao Manh Thau
       Thursday: Dr. Pham Gia Anh
       Friday: Dr. Nguyen Thanh Khiem
Main research area:
      General and Digestive surgery (both Upper and Lower GI)
      Liver surgery
      Panceatic surgery
      Organ transplantation