Administrative Department
Introduction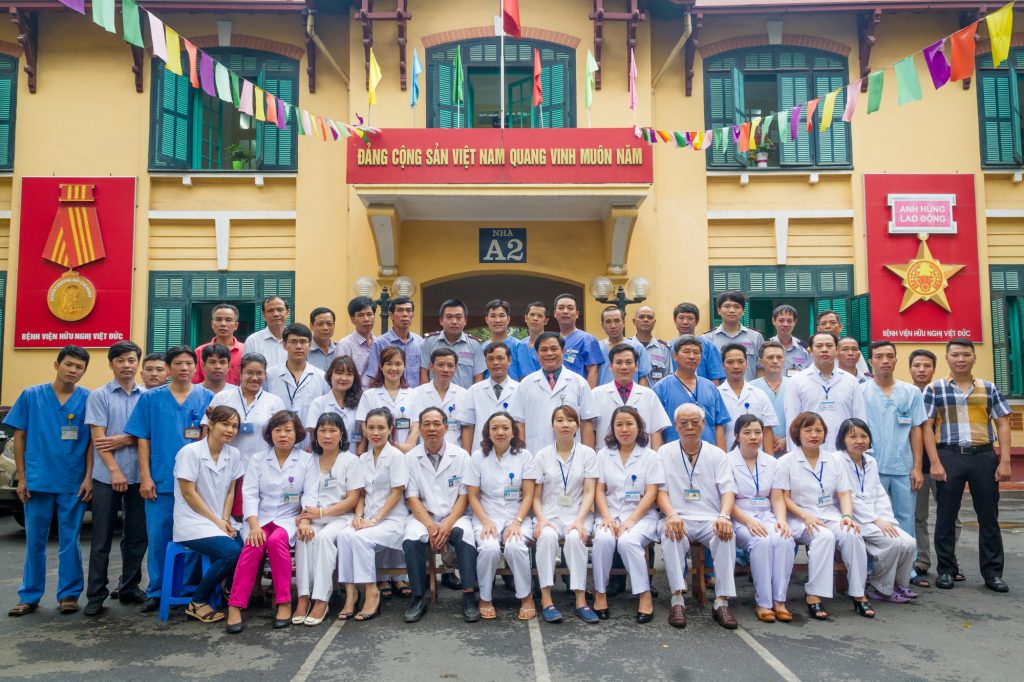 Name of department: Administration department
Contact: 
                Address: Ground floor – A2 bldg. –  Viet Duc University Hospital
                Tel:  (024)38.253.531 / (024)38.289.266 (ext. 559, 508, 417)
 Development history:
The Administration Department was established along with the development of Viet Duc university Hospital. Under direction of Board of Directors, the Administration department was responsible for general administration including administration and management.
On 1st Jan. 2021, with the development of the hospital, the Administration department divided into 2 separate divisions: Administration office and managing office. This separation was resulted from changes in infrastructure and technicality, which aimed to enhance specialization and meet higher standards in medical fields.
Missions and duties
       4.1 Missions
Advise and assist Director in hospital administrative managements: archive, protocol, purchasing, contract signing and payment, outsourcing, ensuring storage sufficiency for examination and treatment.
Manage business or other private transportations;
Manage communications and hospital switchboard system;
Administrative tasks, contract management of additional activities within the hospital activities, e.g. vending machine, massage, taxi, ambulance service, convenient store, canteen and other related tasks.
Other tasks assigned by Board of Directors according to national laws.
 4.2  Duties
Archive
Protocol
Responsibility for purchasing the common goods and all services in hospital:
     + Purchase consumable supplies and inventory management
+ Survey, planning, proposal, procurement, contract signing and payment of outsourcing activities: Guard, industrial cleaning, Wash & ironing, disposal of medical waste (domestic waste, hazardous waste, and recyclable waste)
Manage the transport means for business, employees and visitors.
Manage the activities from outside hospital for assisting the activities within hospital including: vending machine, massage chair, taxi service, ambulance service, convenient store, canteen and other related activities.
Management, supervision, switchboard and hotline operation, making fee payment.
Department staff :
     5.1 Incumbent leaders:
          Head of Department: Hoang Anh Toan,MA
          Deputy Head: Nguyen Nghiem Dieu Huong, MA
     5.2 Predecessor leaders:
Cu Dinh Quy, Ho Dieu, Truong Thi Doan, Pham Huy Dinh, Dinh Manh Huy, Nguyen Trong Thich, Nguyen Van Thu, Nguyen Duc Tam.
     5.3 Number of staff:
          01 Head, 01 Deputy Head and 46 staff, including 9 teams/group in charge of various fields of work (human resource structure chart below)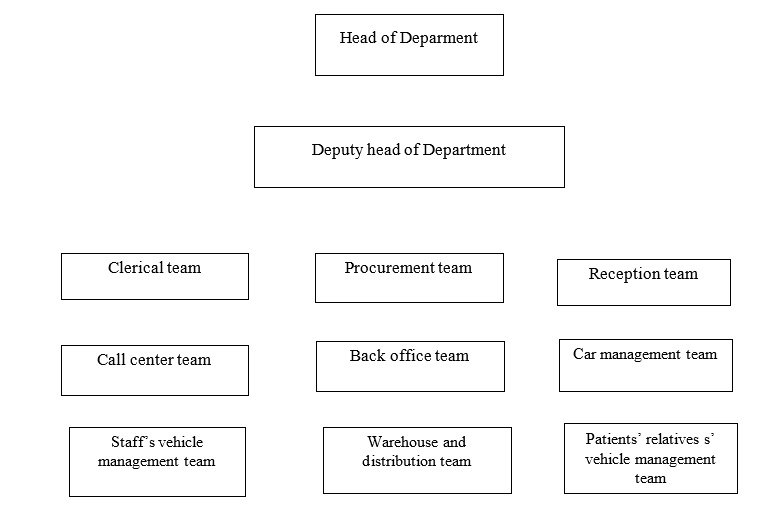 Staff of the Administrative Department has always united, overcome difficulties, proactively and creatively completed the assigned tasks, specifically:
Planning and organizing procurement and distribution timely, effectively, and according to regulations. All purchases of goods respect the process, meet the right quality, and ensure timely service for professional activities .
Receiving, classifying, and storing official documents; using seal effectively in accordance with regulations.
Safely and efficiently managing and operating transport by vehicles. Transporting employees and patients timely and safely .
Effectively managing communication facilities, managing and supervising outsourced administrative services, ensuring service quality meets the requirements of professional activities.
With these achievements, the Administration department (formerly the Administration and Management Department) was awarded the title of "Excellent Labor Collective" for many consecutive years. In 2016 and 2017, the Administration department was honored to receive the Merit from the Minister of Health for outstanding achievements in health care.