Department of Biochemistry
Department of Biochemistry
Introduce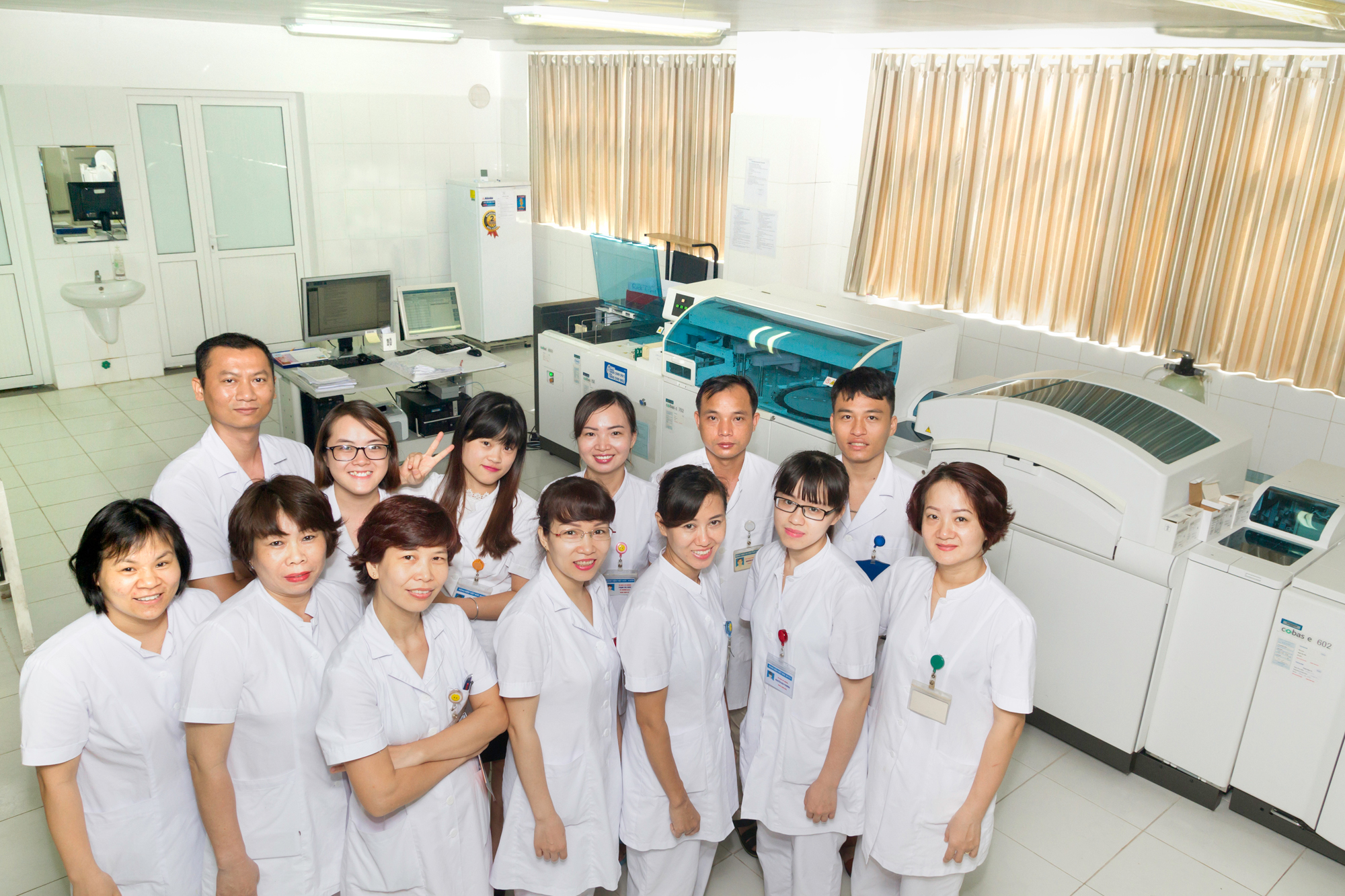 Name of Department
       Department of Biochemistry
Telephone number/ Address
Tel: 0438253531, Extension: 250

Add: 2nd Floor, Building D
Development history
       Since 1954, the department of Biochemistry was a small laboratory that joined with department  of  blood storage.
        From 1964, the department was separated from department of Blood Storage, then became department of Biochemistry.
        Recent years, by the attention of VietDuc Hospital's leadership, the department of Biochemistry is more and more developing with high professional qualifications team of doctors and technicians, always committed in work with advanced and  modern equipment. Since 2008, the Internal information network (Labconn) was used, which is capable of bidirectional connection between the automatic analyzing machine and data management system.·      From a small laboratory with manual and simple techniques, Department of Biochemistry was gradually developing. Nowaday,  Department  has been equipped alot of modern equipment such as: autoimmune biochemical systems Cobas 8000,  automatic biochemical machine AU400, AU640, AU680, Indiko machine.... The department can perform hundreds of tests, from basic tests to high-tech tests, such as tests to track disease organ transplant recipients, the tumor marker tests ... ·      Hundreds of in-patients and out-patients from VietDuc Hospital and other hospitals are tested at the department of Biochemistry everyday.
Functions and duties
        Performing immunological and biochemical tests for diagnosis, monitoring and treatment in clinical practice, outpatient hospital from VietDuc hospital and other hospitals.·      Participated in training specialized personnel in biochemical sector with different levels, included:  intermediate, colleges, universities, graduate ...·      Participated in mentoring other hospitals from provinces, cities.
       Conducting scientific research through scientific subjects at state level, the ministerial level and grassroots.
Join into the Board of Medical laboratory quality inspection of Ministry of Health
Personnel and Organization
      5.1. Current leaders
Head of department: Dung Do Thi Mai, Master of Medicine, Doctor.

Vice- Head of department: Diep Pham Thao, Master of Medicine, Doctor.

Chief of Technician: Tung Hoang, Bachelor of Medicine.
     5.2. Predecessor leaders  
1954-1964:  Bang Nguyen Nhu, MD.

1964-1975: Tin Tham Hoang, Pharmacist.

1975-1984: Yen Lam Ngoc, Pharmacist.

1984-1995: Tuan Đinh Ngoc, MD.

1995-2006: Hanh Pham Thu, MD.

2006-2008: Long Chu Van, graduate.
      5.3. Personnel
          Total staffs: 15, including:
          02 Master of Medicine
          01 Doctor
          04 Technicians, Bachelor of Medicine
          03 Technicians, College of Medicine
          04 Technicians, Middle of Medicine
          01 Orderly
Achievement
        The number of tests is annually increased over 10% in comparison with the previous year.·      Deploy more and more new tests, high-tech tests to track transplant patients, patients from male department.·      Participate into the international External Quality Assessment (EQA) programs and achieve good results and certifications·      Quality of tests are more and more enhance, assurance fastly of turn around time, accurately and timely in order to contribute to improving the quality of health care as well as towards patient's satisfaction.
       Awards
        Third Class Labour Medal (2009)
         Merit from the Prime Minister (2006 and 2013)              Consecutively awarded the excellence labor collective.
Development Orientation
Continuously improve the quality of testing, develop new tests, high-tech tests to respond the needs of clinical heath care.·      Implement quality management system of testing, gradually improve and build a laboratory in accordance to ISO 15189.