Department of Neurosurgery I
Department of Neurosurgery I
Introduce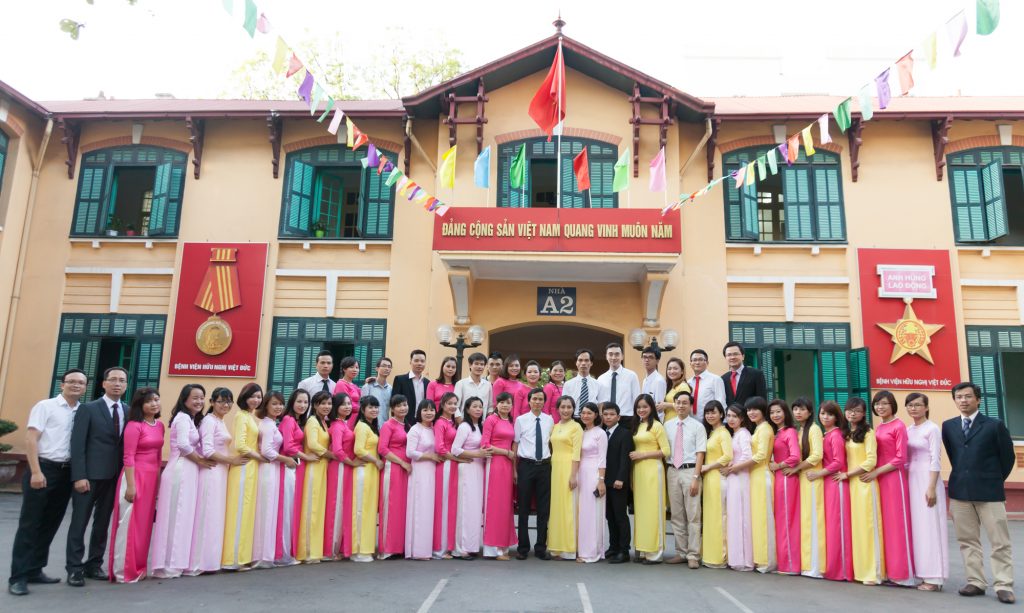 1.Name: Neurosurgery Department I
2.Contact:
 Third floor – Building B1 – Viet Duc University Hospital
Outpatient consultation: Room 231 – second floor – Building C2
Phone: 04.38253531/04.38253535 (extension: 257,442,424)
3.Development History:
Foundation on 1956 with the collaboration of foreign experts, known as Neurosurgery Department (1A) with head of department Professor Nguyen Thuong Xuan and 30 beds.
Since 2015 become Neurosurgery Center of Viet Duc university hospital, Associate Prof. PhD. Dong Van He is director of the center.
The center is divided on 3 departments: Neurosurgery department I, Neurosurgery department II, Department of Neurology and Neurointensive Care Unit.
4.Functions:
Diagnosis and treatment of TBI (traumatic brain injury) and pathology of brain, spinal cord and peripheral nerves.

Formations: medical student and nursing student, postgraduate: residents, Master, PhD degree in neurosurgery

Scientific research

Orientations of Specialty: short and long course of neurosurgery

Administration of person, material and equipment of department

Wards

International collaborations
5. Personal organizations:
Head: Associate Prof, PhD Dong Van He

Vice head: Associate Prof, PhD Duong Dai Ha, Master Nguyen Thanh Xuan

Head nurse: BA Nguyen Thi Ngan
6. Previous head of department:
Nguyen Thuong Xuan (1957-1995)

Duong Cham Uyen (1995 – 1999)

PhD Tran Thuy Lan (1999 – 2002)

Second Degree Specialist Ly Ngoc Lien (2002 – 2014)
7. Staff: 12 doctors (2 Assistant Prof, 2 PhD, 8 Master), 40 nurses, 4 assitants
8. Achievement:
Diagnosis and treatment of neurology and neurosurgery diseases, TBI neurotrauma, vascular malformations, brain tumors, functional disorders, congenital malformations, spinal surgery… and peripheral nerve.
Endoscopy neurosurgerytoday  is used for treatment of brain tumor, hydrocephalus, cranial base tumors, aneurysms, neurovascular decompression…
Successful implementation of national projects about endoscopy surgery for intracranial diseases.
Functional surgery: treatment of epilepsy, Parkinson.
Treatment of cranial base tumors as meningioma, chordoma, pineal tumors, brainstem tumors, intraventricular tumors, sellar and parasellar tumors.
Practice training for students, doctors, specialists, masters.
Engage professional knowledge for another neurosurgical services and trauma center in the North
Collaboration with foreigns countries such as, France, Japan, Australia, USA, Germany, Korea,ASEAN countries: Indonesia, Philippine, Thailand, Singapore…
9. Oriented development:
Professional development and leading on endoscopy, pituitary adenomas, mini invasive neurosurgery, functional neurosurgery, skull base tumors, pontocerebellar angle, neurosurgical nursing…
National center of education and training of neurosurgical subspecialty, nursing care.
Associate Prof, PhD Dong Van He: Director of NS Center, head of scientific research and informatics department, head of NS department I
Scientific investigations:
100 scientific projects
chief of 1 national level project
chief of 5 projects at ministerial level
author of 3 books of profession and consult
Professional dedications: endoscopy, minimum access surgery, pituitary surgery, brain tumors, neurotrauma, brain infections.
Associate Prof, PhD Duong Dai Ha:
Scientific investigations:
More than 50 scientific papers reported
Chief of 2 branches of national level projects
Chief of 7 projects at grassroots level
Co-author of 5 books of neurosurgery
Professional dedications: mini invasive neurosurgery, brain tumors, skull base, endoscopy, spinal and spinal cord surgery, functional surgery…
MD Nguyen Thanh Xuan
Scientific investigations:
More than 20 investigations reported
Participation in branch of national level project
Coauthor of 2 books of neurosurgery
Professional dedications: Endoscopy surgery, minimum access, craniopharyngioma, pituitary tumors, skull base, neurotrauma, spinal cord surgery, brain tumors
PhD. MD Bui HuyManh
Scientific investigations:
Participation in national level project
Participation in ministerial project
Chief of 1 brand of national level project
PhD thesis: Microsurgical decompression of trigeminal neuralgia
MS.MD Nguyen DucHiep
Scientific investigations:
Chief of 1 branch of national level project
Participation in one ministerial project
MS.MD Le Anh Tuan
3 investigations reported
MS.MD Tran Dinh Van
2 investigations reported
MS.MD Pham Hoang Anh
1 investigation reported
BA Nguyen Thi Ngan
Head nursing in NS Department I