Nursing Department
Introduction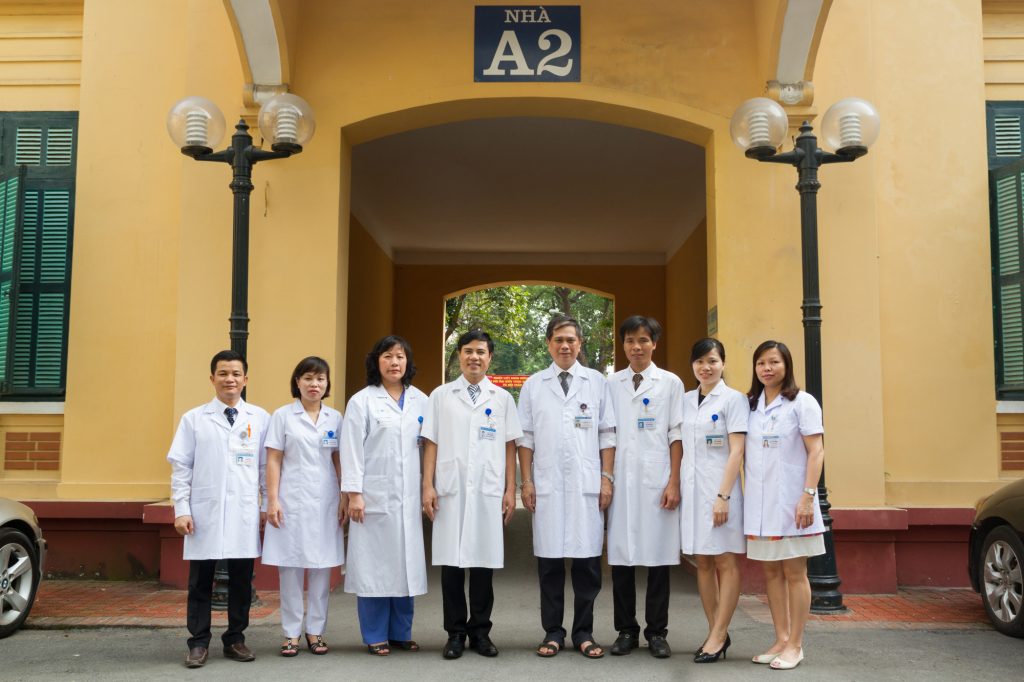 Name of department: Nursing Department
Contact:
Address: 7th floor – B1 building.
Tel: (024)38.253.531 (ext - 246, 586)
Development history:
Since the establishment of the hospital in 1906, the work of nursing (original was infirmière – Y Ta) has always been accompanied by the treatment for patients. Before 1983, the nursing work was managed by the Medical Department of the Hospital, the person directly followed by Dr Dang Sinh Chau, then from 1983 to 1989 was Dr Vu Thi Hong Hanh. Since 1989, the Nursing Board is established and in 1992, the Head Nursing Department was established.
Missions, duties:
Nursing department is a functional department, has a role in managing and using resources effectively, managing quality of care to ensure patient safety and orienting, training and developing human resources for taking care of patients, take responsibility before the Director for the care of patient in the hospital.
Nursing Department has the function of directing Nursing work, organizing the implementation of professional tasks as prescribed; inspect and supervise the compliance with professional care procedures and regulations; inspect and supervise the use of equipment, medical materials and consumable supplies for patient care; advise and formulate policies related to patient care and guide, train and evaluate human resources to care for patients in hospital.
Nursing Department is responsible for organizing the inspection and supervision of nurses, technicians, caregivers  complying with professional procedures and regulations on patient care; organize the inspection and supervision of the use and preservation of equipment, medical materials and consumables for patient care; developing, monitoring and evaluating quality indicators of patient care; update, correct, and advise hospital to promulgate professional regulations and technical processes for patient care; organize continuous training courses, professional activities to update patient care knowledge for nurses, technicians, caregivers; coordinate with departments to organize scientific conferences, seminars to share and improve professional capacity in patient care practices; assess the professional capacity of nurses, technicians, caregivers; updating and editing job descriptions of working positions of nurses, technicians, caregivers; coordinate the development of instructions and procedures for using and maintaining equipment and facilities for patient care; coordinate to develop quality standards for evaluation of consumable supplies and care for patients. Other assigned tasks contribute to the completion of general hospital duties; participate in scientific research; organize the implementation of health communication, education, disease prevention, and prevention mortality and morbidities caused by traffic accidents; participate in the direction of lower-level support lines, transfer professional techniques; proactively exploit and establish international cooperation relationships to exchange experiences in patient care, scientific research and training. 
Personnel organization:
5.1. Incumbent leaders:
Head of department: Mr. Tran Van Oanh, NR, MANP
Deputy Heads: Mrs. Bui Thi Kim Nhung, MA, Mr. Chu Van Long, MA
5.2 Predecessor leaders:
Since 1992-2006: Mrs. To Thi Dien – head of department
Since 2006-2008: Mrs. Dao Thi Thuy – in charge of department
Since 2009 - 31/3/2016: Mrs. Phan Thi Dung, PhD – head of department
5.3 Number of employees:
    - Leaders: 01 Master of nursing, 01 full-time master of nursing, 01 part-time master of hospital management.
    - Staff: 04 in total, Bachelor of nursing.
Achievements:
Excellent collective award: from 2009 to 2018
Merit from Minister of MOH: 2007, 2009, 2011, 2013, 2016, 2018
Merit from Prime Minister: 2011
3rd class Labor Medal: 2007
2nd class Labor Medal: 2014
Development orientation:
7.1 General objects:
          By 2025, nursing activities in the hospital will advance to professionalism, standardized nursing care practices, ensuring safety, quality, efficiency, meeting the increasing needs and satisfaction of patients whom examined and treated at the hospital.
7.2 Specific objects: 
Step by step standardize nursing management procedures, inspection and supervision of professional care activities for patients in hospitals (ISO).
Develop a system of measurement indicators, a scientific and reliable quality assessment toolkit
Develop programs and carry out ongoing training and professional updates for technicians on patient safety, use safety use of medicines, blood transfusion safety, emergency care practice for patients, infection control, wound care ... improve professional qualifications in surgical care for patients, health education consultation and behavioral communication.
Promptly update, revise and issue professional technical regulations and procedures, and monitor compliance to ensure uniform implementation throughout the hospital.
Actively conduct scientific research, maintain annual scientific conferences and seminars to share and update knowledge in patient care practices.
Strengthen and expand both international and domestic cooperation, engage and actively participate in professional association activities, maintain activities to honor the profession and affirm the position of nurses
Develop a system of assessment criteria for technician nursing capacity