Oncology Department
Oncology Department
INTRODUCE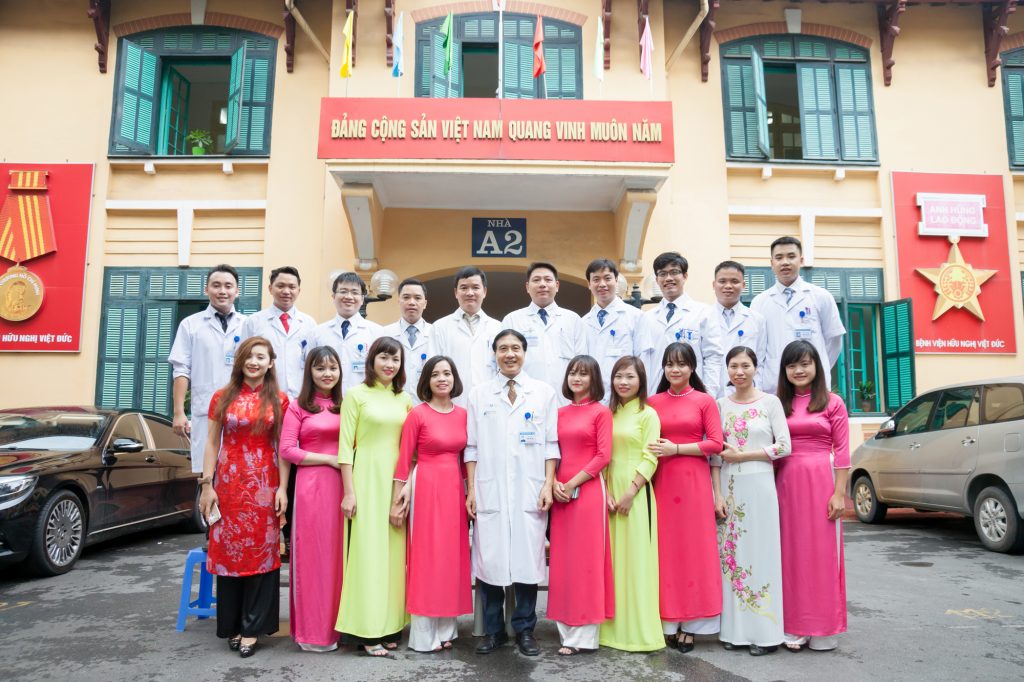 Name of department:Oncology Department
Address:

Outpatient clinic: Room 252B and clinic No. 4 – 2nd floor – C2 building

Impatient treatment: 8th floor, D building – Viet Duc University Hospital

 Tel: Outpatient clinic: 024.38.253.531 - 842 & 844 (during office hours)

        Impatient treatment: 024.38.253.531 - 571

Development history:

Facing the challenges of increasing number of oncological pathologies as well as to meet the practical needs of comprehensive treatment for patients, Board of Directors of VDUH has issued Decision No. 246/QD-VD on 27/2/2013, about the establishment of Oncology Department, but on June 1, 2015, when the high-tech building was put into use, department officially accepted treatment for inpatients.

Personnel:

Head of department: Prof. Trinh Hong Son, MD, PhD

Deputy head of department: Mr. Pham Gia Anh, MD, MSc

Head nurse: Mrs. Tran Thi Ngoc, MA

Number of employees:

Department has 34 staff, including:

Doctor: 11 (01 Prof.; 01 PhD; Master/ Resident doctor: 09; Bachelor: 02).

Nurse: 20 (Master/1st specialized 1: 01; Bachelor: 07; College: 12, 07 Intermediate)

IT staff: 01 (Intermediate)

Caregiver: 02 (Beginner)

Achievements:

Department has well prepared equipment, trained human resources to ensure quality and safety in medical examination and treatment, and applied appropriate regulations towards patient satisfaction and practically received many positive feedbacks from patients, their families and colleagues inside and outside the hospital.

Throughout 05-years operation period from 2016 - 2020, department has been organized treatment for more than 11.161 hospitalized cases and 3911 surgeries, in which many cases are complicated pathologies, severe like liver cancer, pancreas cancer, stomach cancer, colon, breast cancer, thyroid cancer … Especially, there are aging cases over 90 years old or cancer of two locations.

Department has organized multi-specialty consultations according to international standards to decide treatment direction for complex medical cases to proceed to routine this activity. Department has been developing treatment procedures and regimens to update and standardize the department, including administrative procedures such as patient reception procedures, student admission procedures ... and professional qualifications such as dressing change procedures, pleural drainage procedures, patient care procedures with tracheostomy ...

In terms of scientific research, department improves the quality of caring by applying evidence-based medicine by organizing research studies to follow patients by specialty, each specific issue such as follow-up of patients after arterial embolization, record and monitor pressure ulcers in patients with long-term treatment ... according to agreed procedures of department.

Development orientation:

Develop and complete treatment procedures for both surgical, chemical and radiotherapy as well as comprehensive patient care in the direction of standardization and unification in the entire department. Continue to CME train both domestically and internationally to ensure the quality of medical examination and treatment and maintain appropriate regulations towards patient satisfaction.

Step by step implement diversified and rational medical examination and treatment services to meet the needs of patients like online consultation, consultation and treatment, surgical advice from distance, taking care to reduce pain at home …

Learn, update, and apply new knowledge in treatment to ensure the benefits of patients

Actively participate in scientific research activities at base, ministerial and State levels…

Striving each year has at least 01 scientific research project that is published on a prestige journal in ISI/Scopus list.

Build and develop cooperation relationship in specialty with domestic and international partners.