Personnel Department
Introduction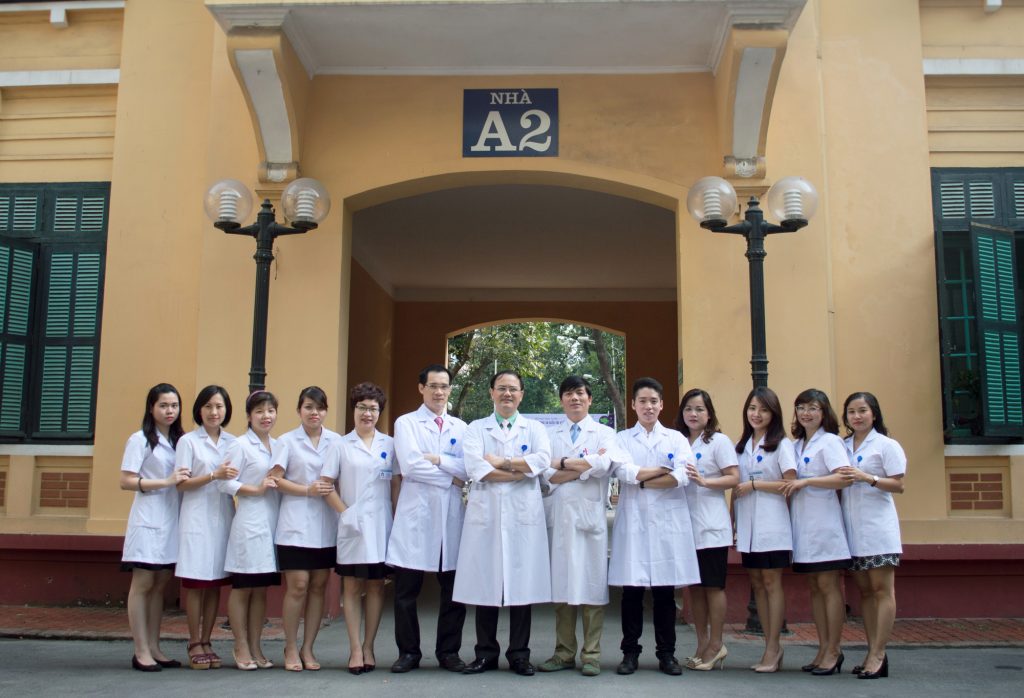 1. Name of department: Personnel Department
2. Contact:
            Address: R.204-206-208 - 2nd floor - Block A2 -  Viet Duc University Hospital
            Tel: (04). 38253531 - ext: 326, 465, 576
3. History of development:
       After the liberation of Hanoi capital - 10/10/1954, Yersin Hospital was renamed to Phu Doan Hospital. " Human resources Department" was one part of hospital organization, keeps it's name as original and has always been associated with the development of the hospital through the years.
4. Functions and duties:
       As a functional department, Human resources Department is leaded directly by Hospital's Directorial Board and responsible in consulting the Board of Directors for hospital' management, direction and implementation the following tasks:
       4.1 Administration of staff :Establishing, consolidating ,arranging the hospital's organization; enforcing rules, statues, regulations, relationship among the departments; planning human resources, staff promotion, dismissal, transfer, recruitment plan, labour contract, training, resolving policies, social insurance for employees
        4.2 Emulation and reward, discipline work: Organizing emulation and commendation work, advising the Board of Directors in emulation and commendation procedures. Resolving complaint letters and denunciations about organizations, units and individuals in the hospital.
        4.3 Internal protection work
Maintaining a close relationship with the Party organizations, Authorities in areas as well as Police Officers , ... regarding the relevant work.
       4.4 Labour and safety work, fire prevention, military work,…
5. Personnel:
       5.1 Predecessor leadership:  
       Senior Officer  Mai Dac Ban
       Senior Officer Do Thi Thai
       Senior Officer  Le Ngoc Duong
       Senior Officer  Phung Van Vuong
       Doctor Vu Chau Thinh, MD
       Associate Professor Nguyen Tien Quyet, MD, PhD
       Specialized Doctor, level 2. Truong Thi Nam Chi, MD
       Senior officer Tran Minh De
        5.2 Current leadership:
       Head: PhD. Tran Dinh Tho
       Deputy head: Ass. Prof Nguyen Xuan Hung
       Deputy head: BSc. Vu Dang Dung
       Deputy head: BSc. Le Minh Tuyet
       5.3 Organizational structure:
       It has now 14 officials in total,  including 01 Associate Professor Ph.D, 01 Ph.D, 02 Masters, 09 Bachelors, 01 Diploma. It has 3 units: Personnel work: 11 officials, Permanent office of Party Commitee: 01 official, Permanent office of Hospital's Trade Union: 2 officials.
6. Achievements:
       In recent years, under the leadership of Party Committee and Board of Directors, Human resources Department has excellently implemented assignments with outstanding achievements:
       - It has advised Board of Directors to establish new institutions and centers as well as send health workers to study to meet the standards of the special class hospital. In 2015, The hospital was honourably ranked the outstanding class hospital.
       - Officials planning, appointment and training are done strictly according to regulations, public, democracy to create unity and strength in the hospital.
       - The implementation of the regime for officials is always timely, prescribed by law and hospital's regulations
       - To encourage departments and individuals that have made outstanding
achievements in the work, it has advised the Party committee, board of directors, Hospital's Council for Emulation and award, Ministry of Health, the Government and the President to grant many honorable titles such as:
       Labour Order, the first class (1986)     
       Independence Order, the first class (2001)
       Hero of the People's Armed Forces (2004)
       Hero of Labour in the "Doi Moi" period (2006)
       Ho Chi Minh Order (2010) and many noble titles.
       The hospital has now 15 People's Doctors and 53 Doctors of Merit
       Human resources Department has achieved many rewards with a long tradition:
       - Since its establishment, it has always been a flagship of  hospital' s emulation movement.
       - It has been awarded Labour Order, the third class; Prime Minister's merit certificate, Certificate of Ministry of Health for outstanding achievements in medical service implementation.
        - 02 officials were presented Labour Order, the third class
        - 03 officials were presented Prime Minister's merit certificate and Ministry of Health's merit certificate, Medal for People's Health, Medal for the State organizational industry
7. Development orientation:
       - Consolidate organizational structure, specialized function, coordination in performing tasks.
       - Modernize operations through the application of information technology on human resources management.
       - Advise Board of Directors on organizational structure, human resource planning of Hospital' s branch
       - Build up the work implementation process to reform administrative procedures to manage the work progress comply with quality standards system (ISO).