Scientific research and Information technology
Introduction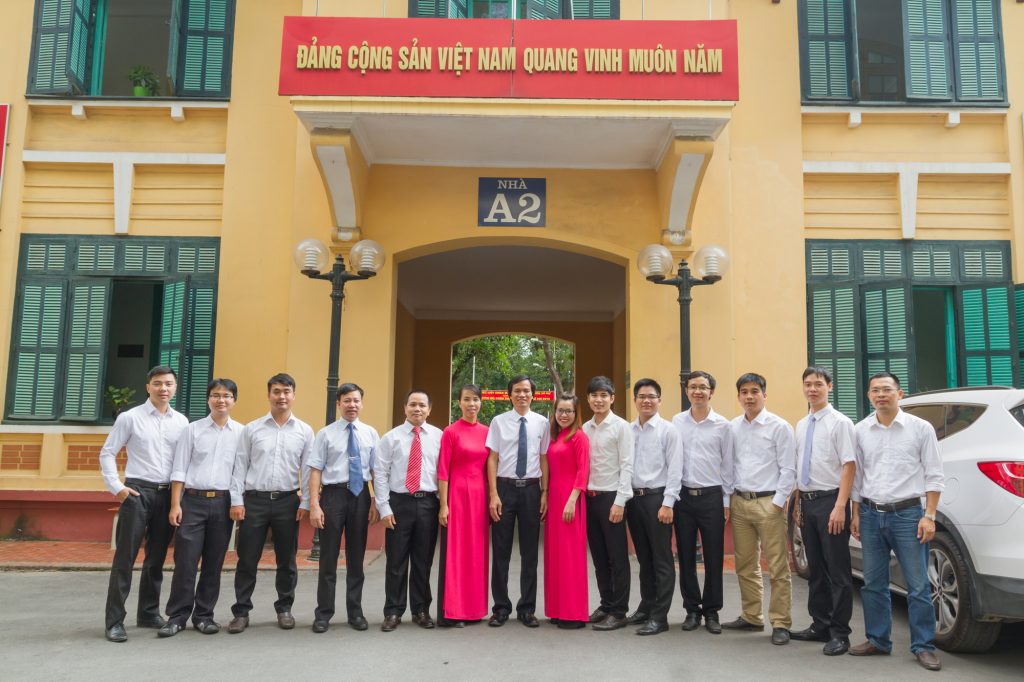 1. Name of department: Information Technology Department
Contact:
           Address: Room 203 – A1 building
Viet Duc University Hospital – 40 Tràng Thi – Hoàn Kiếm – Hà nội
           Tel: (024)38.253.531 (ext - 310, 848, 469).
            Hotline: 0949.310.469.
Development history:
           Information Technology Department was established according to Decision No. 961/QD-VĐ dated April 26, 2019, of Director of Viet Duc University Hospital. Formerly the Scientific Research and Information Technology Department was established in May 2002.
Position, missions, duties:
            4.1. Position: Information technology is a functional department, hospital affiliated and under direct leading of Director Board.
            4.2. Duties: Information Technology Department has the function of advising and assisting Director and taking responsibility before Director for all information technology activities of Hospital.
            4.3. Missions: 
           4.3.1 Plan to promote and develop hospital's information technology activities:
-  Development of IT infrastructure, devices and IT software.
- Monitor, maintenance, and operation of IT system
-  Actively absorb information and make plans to purchase, repair, replace and upgrade hardware equipment, network infrastructure and information technology application software to report, propose, and advise hospital leaders.
-  Advise, cooperate with departments, and take responsible for building configuration, technical features for the procurement of equipment related to information technology.
-  The focal point to organize bidding, procurement, repair, and liquidation of information technology-related assets in the hospital.
- Join other departments in hospital to draft or implement policies such as health insurance to deploy in hospital.
4.3.2. Organization, management as well as operation of information technology system: 
Information Technology Department oversees managing and troubleshooting problems related to IT equipment, application software. 
Timely maintenance IT equipment and software. 
Set up profiles, build operating process, and use IT system. 
Implement measures to ensure information safety and confidentiality in Hospital. 
Develop regulations and rules related to IT activities, apply IT in accordance with law, regulations of Hospital, and monitor, evaluate and make recommendations to Compliance with regulations on IT operations and application issued by Director 
Provide guidance and training to improve staff and staff's capacity to apply IT in hospital operations.
Build database for units
Personnel:
            5.1. Incumbent leaders:
            Head of department: Mr. Nguyen Luong Bang, MSc
            Deputy head            : Mr. Nguyen Ngoc Toan, MSc
5.2 Predecessor leaders: 
From 2002 – 2007: Prof. Trinh Hong Son, MD, PhD (Head).
From 2007 – 4/2019: Ass. Prof. Dong Van He, MD, PhD (Head)
5.3. Number of employees: 13 staff
Cơ cấu: Tổ phần mềm và Tổ hạ tầng thiết bị phần cứng??? Thông tin ở đâu?
Achievements:
           Upholding the tradition and with the overall development of hospital, IT department also achieved a number of achievements
          -  Merits from MOH and Prime Minister;
           -  In 2020, successfully deploy Telemedicine system with Hospital management aspects like: HMIS, PACS, LIS and equip modern main system room
-  Coordinate the management of Pharmacy, Consumables, chemicals, stationery, basically solving the management needs on the hospital software system.
            - Connect daily data transfer with Health Insurance as the basis for payment of Health Insurance.
           
-  Accumulate a rich database to support treatment and support basic scientific research to develop electronic medical records.
            - Maintain a secure network infrastructure connection, continuously ensure that domestic and international seminars, video conferences, and meetings take place successfully.
            - Timely supply of information technology equipment for medical examination and treatment for hospitals.
Vision and development orientation:
    7.1. Activities:
Promote the development of information technology infrastructure to ensure stable and safe operation application.
Promote the development and improvement of information technology system, build electronic medical records towards the goal of a film-free and paperless hospital
7.2. Human resource:
       Supplementing human resources in each stage in accordance with the functions, duties, and the scope of department operation.