Spine Surgery
Spine Surgery
Introduce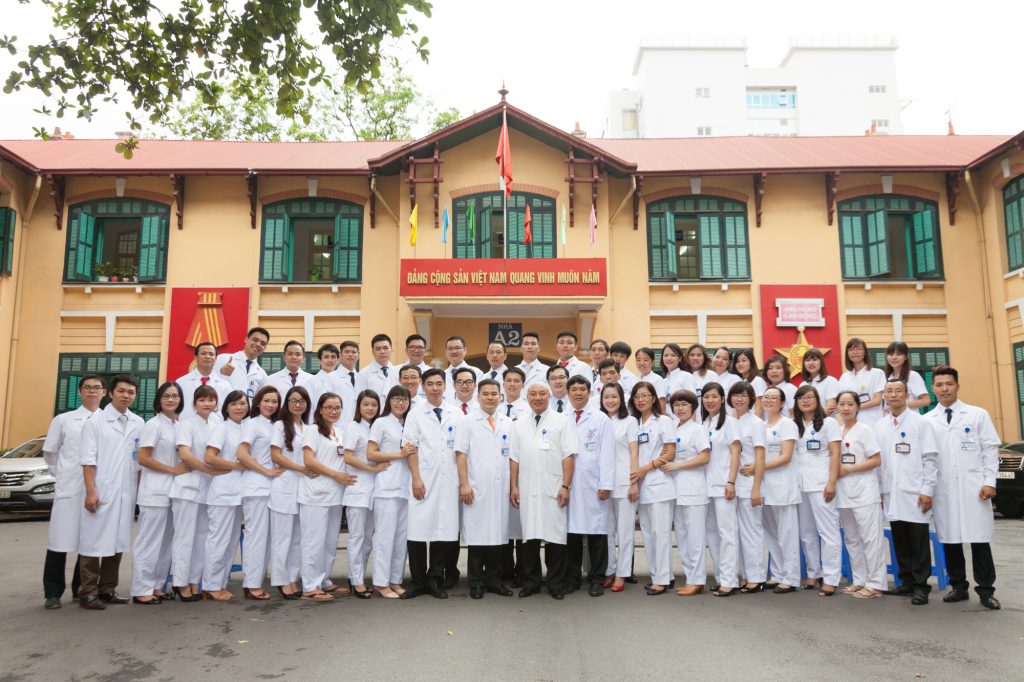 Name of department: Spinal Surgery Department
Contact:
Inpatient area: 6th floor – D building
Clinic and outpatient treatment area: 03 specialty clinics
General examination room: 137 – 1st floor – C2 building
On-demand clinic room No. 9 and 10 – 2nd floor – C2 building.
Tel contact:
step 1: dial hotline:
 (024)38.253.531/ (024)38.253.535 
step 2: connect
+ Office: ext - 479
+ General examination room 137: ext - 415
+ On-demand clinic no. 9: ext - 419
+ On-demand clinic no.10: ext - 800
Development history:
   Spinal Surgery Team was established firstly in 2003. This is the precursor to Spinal Surgery Department today. Since its inception, Spinal Surgery Team has successfully performed many complicated spinal pathology operations and spinal injuries. With the initial experience and the increasing trend of spinal pathologies, on September 20, 2007, Board of Directors decided to establish Spinal Surgery Department. From here, under the leadership of Ass. Prof. Nguyen Van Thach – MD, PhD, former head of department, the collective of Spinal Surgery Department has strongly developed, becoming the leading spine surgery center in the country, meet patients' expectation and love.
Missions, duties:
      4.1 Medical examination and outpatient treatment for patients with spinal pathologies and spinal injuries, orthopedic trauma;
      4.2 Intensive surgery and inpatient treatment for patients with spinal pathologies, spinal cord injuries and orthopedic trauma;
      4.3 Scientific research on spinal pathology topics, grassroots level, ministry level and State level topics….
      4.4 Basic and specialized training theoretically and practically of spinal surgery for: Medical Student, Nursing, Resident Doctor, Senior, 1st and 2nd degree Specialist; PhD, International Doctor ...
      4.5 Training and transferring techniques to provincial hospital nationally on spinal surgery;
      4.6 Cooperating with international hospitals, Medical University, Spinal Surgery Association in the world in scientific research, training of spinal surgery ...
Personnel:
      5.1 Incumbent leaders:
            Head of department: Ass. Prof. Dinh Ngoc Son – MD, PhD 
         President of Orthopedic and Trauma Institute: Ass. Prof. Nguyen Le Bao Tien – MD, PhD.
            Deputy Head: Dr. Nguyen Hoang Long - MD, PhD.
                                      Dr. Vu Van Cuong – MD, PhD 
            Head nurse: Mrs. Vu Hoang Anh, MSc.
      55.2 Predecessor leaders:
            Ass. Prof, people's physician Nguyen Van Thach, Former Head of Department, also former Director of Orthopedic Trauma Institute, former Vice - Director of hospital.
      5.3 Number of employees; 
           Doctors: 04 Ass. Prof, People's Physician; 03 PhD; 01 2nd degree specialized doctor, 11 Masters – resident doctors;
           Nurses – Technicians – Staff: 40 nurses, 03 Master (02 1st degree specialized nurse), 09 bachelor, 28 college technicians, 02 officers, 01 staff, 04 caregivers.
Achievements:
2nd Class Labor Medal (2017).
Merits from Prime Minister, Ministry of Health.
Excellent collective consecutively.
Successfully presided over and accepted 03 State-level projects and many ministerial and grassroots-level projects.
Development orientation:
Department development to become one of the leading spinal surgery units/centers in the country, region and in the world, specifically:
- Continue to deploy advanced and modern techniques (spinal surgery with the support of positioning robots, scoliosis correction, diskectomy, spinal endoscopic surgery...).
- Deploying new techniques in spinal surgery.
- Constantly improving the quality of treatment, serving outpatients and inpatients.
- About scientific research: Strengthening scientific reports at international conferences. Organize in-depth domestic & international seminars in spinal surgery field. Implement national, ministerial and grassroots level projects.
 - Regarding international cooperation: Close cooperation with international associations such as: American Academy of Orthopedic Surgery, Southeast Asian Orthopedic Surgery Society, etc., cooperate in research, training, and technology transfer....
- Always at the top of training for spinal surgeons, residents, PhDs, international doctors…;