Staffing Healthcare Department
Introduction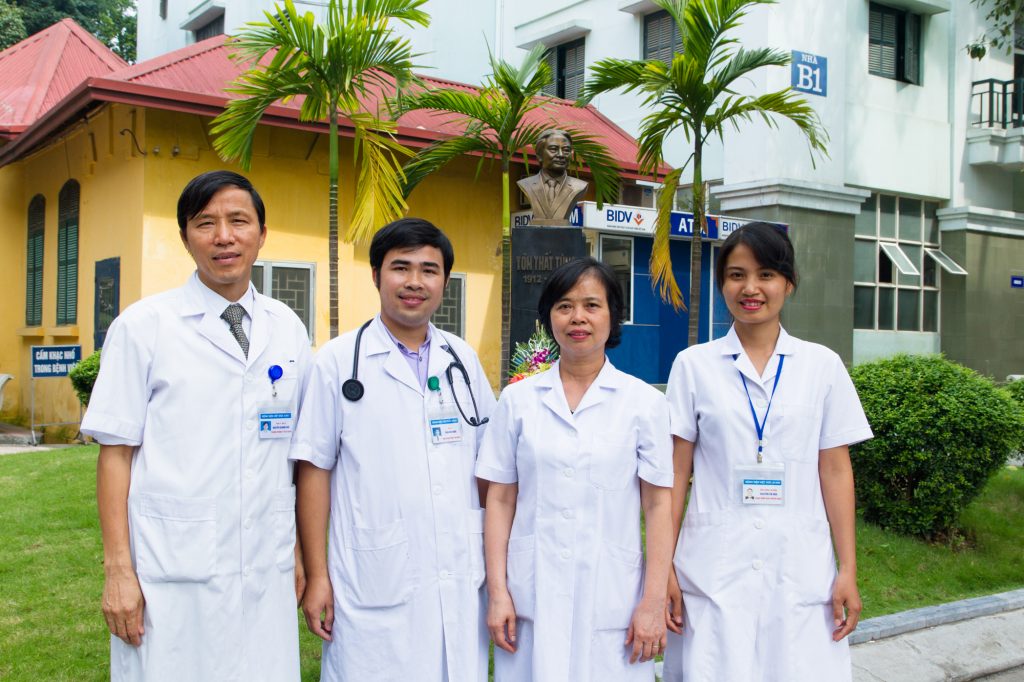 1. Name of department: Department of Staff Healthcare
2. Contact:
            Add: Viet Duc University Hospital
            Tel: (04). 38253531 – ext: 258
3. History of development:
       Department of Staff Healthcare was established in 1956, when the hospital came back from the war zone to takeover Phu Doan hospital after the victory of the resistance war against France.
       Staff healthcare work was facilitatedby Party Committee and Hospital Directorate, Department of Staff Healthcare has always met the requirements assigned by Hospital Directorate, consecutive years was awarded as Advanced labor team, Excellent labor team and achieved Certificates of Merit of Minister of Health.
4. Functions and duties
       Superviseemployee's health in the hospital.
       Provide medical examination and treatment, distribute drugs for some acute illnesswithinprofessional permission.
       Propagandize to prevent occupational disease, ensure hygiene and labor safety.
       Coordinate with Department of Accounting & Finance to buy health insurance for staff yearly.
       Organizeperiodic health examination for employees and apprentice.
5. Personnel:
       5.1 Current leadership:
       Head: MSc. Nguyen Quang Hue
       5.2 Predecessorleadership:
       From 1956 to 1975: Senior nurse Nguyen Thi Huong
       From 1976 to 1982: Senior nurse Phan Thi Huyen
       From 1983 to 2000: Doctor Nguyen Manh Khuong
       From 2000 to 2008: Doctor Vu Minh To
       5.3 Organizational structure:
       Department of Staff Healthcare has 01 Head, 01 nurse
6. Achievements:
       Aftermore than 60 years of establishmentand development, with the main function of acute and chronic medical care, despite of very few staff, Department of Staff Healthcare always successfully complete all assigned tasks.
       In addition, Department of Staff Healthcare also coordinate with clinical departments to provide medical examination and treatment for employees in order to reduce costs and time, thereby ensure the hospital operations to work continuously without interruption.
7. Development orientation:
       - Continueimplementing all assigned tasks successfully.
       - Actively participate in the activity of Board of Occupational safety.
       - Coordinate with other departments to enhance staff healthcare to make sure all staff will have a good health to work effectively.
       - Coordinate with other departments and hospitals to organize medical examination for new employees, ensure high quality of human resource recruitment.
       - Recruit 02 nurses for Hospital's branch in Ha Nam.