Trauma and Orthopaedic Surgery 2
Trauma and Orthopaedic Surgery 2
Introduce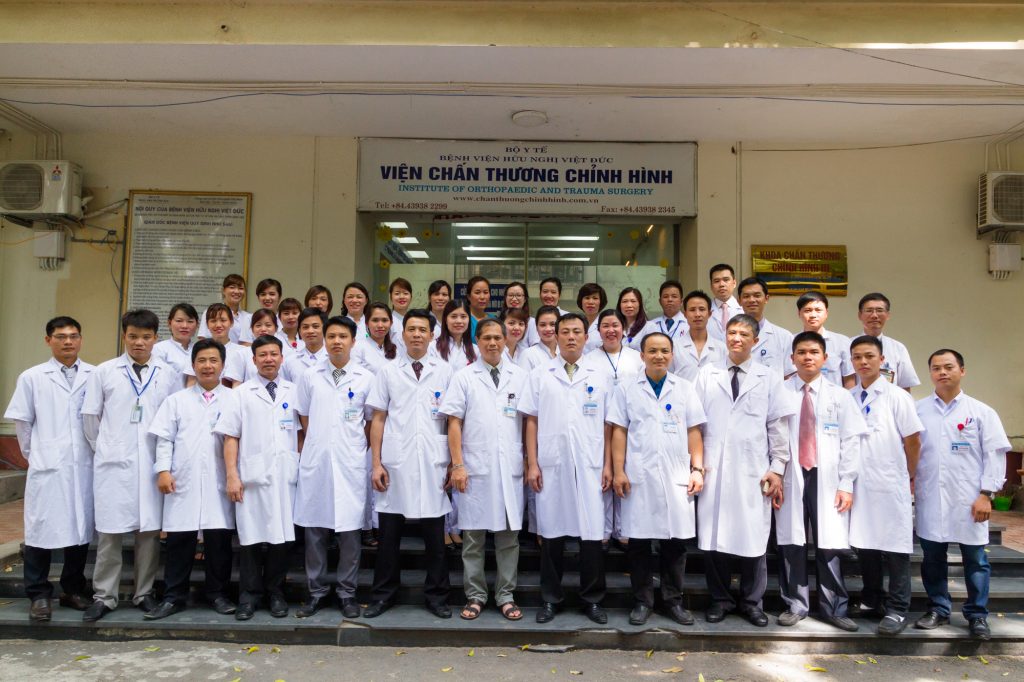 Name of department: Lower Extremities Surgery Department 
Contact:
Address: 2nd floor – B3 building  
+ Specialty clinic: No.135 - C2 building
+ On-demand clinic: No.15 – 2nd floor - C2 building 
           Tel: (024) 38.253.531/ (024) 38.253.535 (ext - 213) 
            Hotline: 0776.113.115      
            Website
Official: http://benhvienvietduc.org/khoa/khoa-phau-thuat-chi-duoi
Training: http://phauthuatchiduoi.com/
Development history:
     Orthopedics and Trauma Surgery Department was established after return of peace (1954) under the leadership of the first head, Prof. Dang Kim Chau – MD, PhD.
      In 2007, Orthopedic and Trauma Surgery Department and Spinal Surgery Department were separated.
      In 2011, Orthopedic and Trauma Surgery Department was separated into Orthopedic and Trauma Surgery I and II Department, belonging to Orthopedic and Trauma Surgery Institute, Viet Duc University Hospital.
       Since 2018, taking on the task of developing hospital's specialized and spearhead, department changed its name to Lower Extremities Surgery Department.
High techniques in orthopedic surgery have been performed such as: minimally invasive surgery for osteosynthese, arthroscopic surgery, joint replacement, orthopedics for congenital as well as acquired pathologies, and other surgeries. Complex trauma emergency surgery.
In addition, scientific research, international cooperation, directing, technology transfer is also very developed. Especially, Department has links and exchanges information as well as technology transfer with countries with advanced and long-standing medical backgrounds such as France, Germany, USA, Singapore, Korea, Thailand. …
Missions, duties:
      4.1 Consulting, medical examination and treatment in the field of orthopedic trauma.
      4.2 Scientific research and technical improvement.
      4.3 Basic and specialized training for students, medical students, and students from hospital levels to study at department.
      4.4 Provide the function of direction for satellite hospitals and the hospitals at lower levels.
      4.5 Linking and exchanging professional experiences with equivalent medical facilities in the country and countries with advanced medicine in the world. 
Personnel organization:
      5.1 Incumbent leaders:
       Head of department: 2nd degree specialized doctor: Doan Viet Quan, MD
        Deputy Head: Mr. Tran Hoang Tung – MD, PhD
        Deputy Head: Mr. Nguyen Tien Son – MD, MSc
      5.2 Procedure leaders:
            Prof. Dang Kim Chau – MD, PhD
            Ass. Prof. Nguyen Trung Sinh – MD, PhD.
           Ass. Prof. Ngo Van Toan – MD, PhD.
            Ass. Prof. Nguyen Xuan Thuy – MD, PhD.
      5.3 Number of employees:
            Doctor: 12 (Including, there are 09 doctors belong hospital and 02 doctors belong the Hanoi Medical University, 1 doctor of 2nd VDUH)
            Nurse, technician: 35 (04 Bachelor nurses, 18 College nurses & 10 Intermediate nurses, 3 Intermediate technicians)
           IT staff: 01.
           Caregivers: 02.
Achievements:
Department in many years achieved "Excellent collective reward", "Merits from Minister of MOH"," Merits from Prime Minister". Especially, in 2019, Lower Extremities Surgery Department was honored to reward with 3rd class Labor Medal, records collective accomplishment in new transformative generation.
Examination and treatment: Department has completed examination and treatment career well: 
Examination:
Performed orthopedic specialty diseases and bone diseases examination (10.120 cases in 2019 with 6383 cases of on-demand examination)
- Examination screening, distant consultation with lower hospitals.
Treatment:
Surgical treatment for general orthopedic diseases:
- Orthopedic surgery, treatment for diseases of movement organs, pediatric orthopedic:
- Joint diseases surgery: hip replacement, knee, ankle.
- Arthroscopy for ligament damage, cartilage damage, soft tissue in the knee, hip and ankle joints diseases
-  In 2019, treated 7070 patients, with 6806 patients were operated on .
     Training: participating in teaching and training: Students of medical schools: Hanoi Medical University, Hanoi Medical Department – VNU, foreign students.
       Scientific research: 
Organize many conferences about joint replacement and arthroscopy with the cooperation of leading experts in domestic and international.
- Participate specialty scientific conferences:
            + Vietnam Surgery Conference
            + Vietnam Annual Orthopedic Conference
            + Annual Scientific Conference on Nursing Care – Viet Duc University Hospital
           + Organize, being host at SEA Orthopedic Conference. Leader was trusted and promoted to be Regular Vice President of Vietnam Orthopedic Association, Member of the Executive Committee of the Association.
     Direction of Healthcare activities: Send staff to work in shifts according to project 1816 of Ministry of Health. Participating in specialized training courses on Orthopedic specialty for doctors and technicians at grassroots levels.
      Economic management: Strengthen medical services, high quality care. Manage hospital fees to avoid loss of revenue for hospital.
      Prevention health: Instruct staff and patients on treatment regimens and ways to prevent infectious diseases. Develop specific procedures to ensure professional work when there is an epidemic situation.
     International cooperation: Accepting international students to study from Australia, France, USA...Organize seminars, presentations, lectures... of leading international experts in the field of orthopedic trauma., sending doctors to study and practice in foreign hospitals.
      Rewarded forms:
Excellent collective reward: 2011, 2012, 2013, 2014, 2015
Merits from Minister of MOH: 2011, 2014.
Merits from Prime Minister: 201
           3rd class Labor Medal in 2019
Development orientation:
Continue to improve professional activities of medical examination and treatment of diseases of lower extremities and the quality of patient service.
Promote scientific research by doctors and nurses, increase both quantity and quality of research projects and improve techniques.
Strengthen international cooperation, receive new technical learning.
Provide medical assistance, training, and technology transfer in many effective and practical forms.