Trauma and Orthopaedic Surgery 3
Trauma and Orthopaedic Surgery 3
Introduce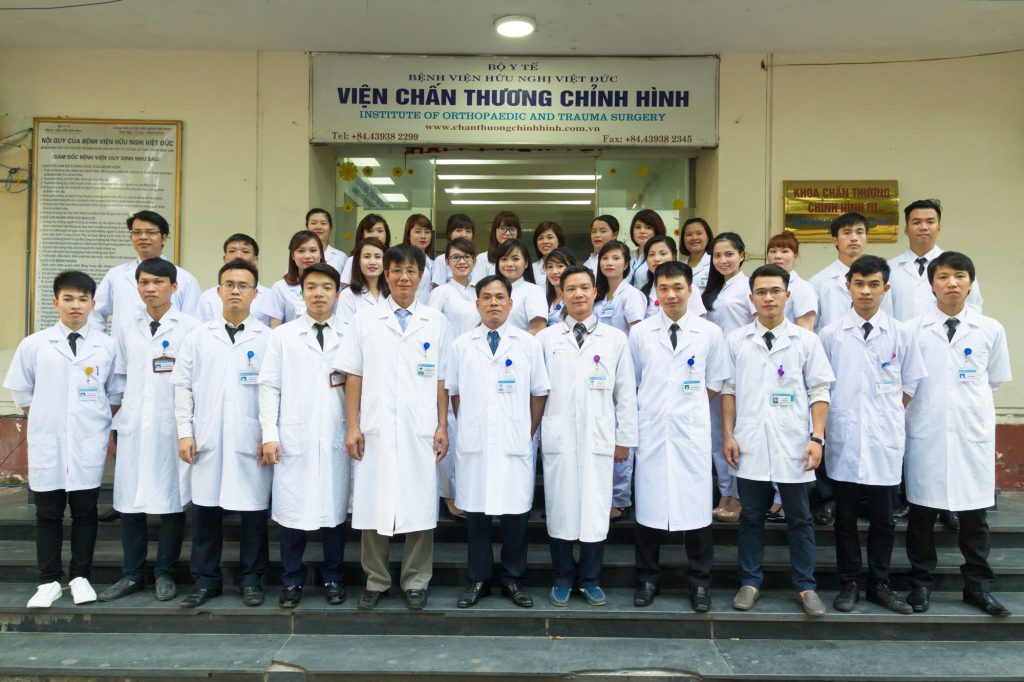 Name of department:General Orthopedic Surgery Department 
Contact:
    Address: 1st floor – B3 building
    On-demand Clinic: No. 14 – 2nd floor C2 building
    Clinic: No. 109 – C2 building
    Tel: (024)38.253.531/ (024)38.253.535 (ext - 516, 514) 
Development history and achievements:
Department was established on 27 Feb 2015 with the task of exanimating, treatment for patients of general orthopedic and trauma, including 8 doctors (2 PhD, 03 Master, 02 graduated residential doctors and 01 doctor of 2nd facility), 34 nurses (07 bachelors, 27 college), 1 office worker with 64 beds, can treat more than 90 patients at the same time (64 beds and 28 stretcher).
After more than 6 years of operation, department has examined and treated more than 40,000 inpatients with general orthopedic trauma, including less invasive osteosynthese for over 15000 cases, more joint replacement 3000 cases (hip replacement, knee replacement, shoulder joint replacement, ...), laparoscopic surgery with a full range of techniques in shoulder arthroscopy, elbow joints, knee, and ankle joints for more than 5,000 cases.
The main function is medical examination and treatment, however scientific research and training are always given priority. There are more than 400 students from specialized classes, resident doctors, and doctors who are oriented to study at department. In addition, department also receives clinical training for students from Hanoi Medical University, Hanoi Medical College, especially over 70 foreign students from France, England, Germany ...
In scientific research, department actively participates in all conferences with scientific works, contributing to the development of orthopedic major in general and surgery in particular.
Additionally, participating in scientific report at international conferences with 05 projects (02 reports at America Ankle Surgery Conference, 01 report at Asia Join Laparoscopy Conference of Conmed-Linvatec, 02 reports at South Korea Orthopedic Surgery Conference).
Missions, duties:
      4.1 Examination and treatment of specialized pathology of orthopedic trauma.
      4.2 Examination and treatment of related diseases specialized in trauma and orthopedic.
      4.3 Research and apply advanced and advanced techniques in seismic and treatment.
      4.4 Scientific research and medical staff training.
      4.5 Undertaking international cooperation in scientific research and human resource training.
      4.6 Actively participate in hospital activities and movements. 
Personnel:
      5.1 Incumbent leaders:
Head of Department: Dr. Le Manh Son, MD, PhD.
       Deputy Head: Dr. Ngo Ba Toan, MD, PhD.
                                 Dr. Truong Xuan Quang, MD, MSc.
      Head nurse: Mrs. Pham Thu Giang, MA.
      5.2. Number of employees:
           Doctor: 02 Masters, 02 Graduated resident doctors.
           Nurse: 34 nurses.
Achievements:
After 6 years of operating, the achievements are:
Performed high techniques in most of areas of Orthopedic and Trauma specialty: Joint replacement: shoulders, hip, knee replacement. Joint arthroscopy: shoulder joint, elbow, knee. Orthopedic surgery in other diseases.
Training for more than 350 doctors of 1st and 2nd degree specialized; resident doctors; collaboration training for students from Hanoi Medical University, Medical College; foreign students.
Development orientation:
Department was established with the main function and task in the treatment of orthopedic trauma, especially in-depth of minimal invasion surgeries in specialized diseases treatment, joint replacement surgery and joint arthroscopy treatment like osteoarthritis, sport medicine …. The development direction of department in the coming time is to promote specialized techniques, apply advanced treatment methods, focus on developing minimally invasive surgical techniques to improve the quality and effectiveness of treatment.