Hepato-Biliary Surgery
Hepato-Biliary Surgery
INTRODUCE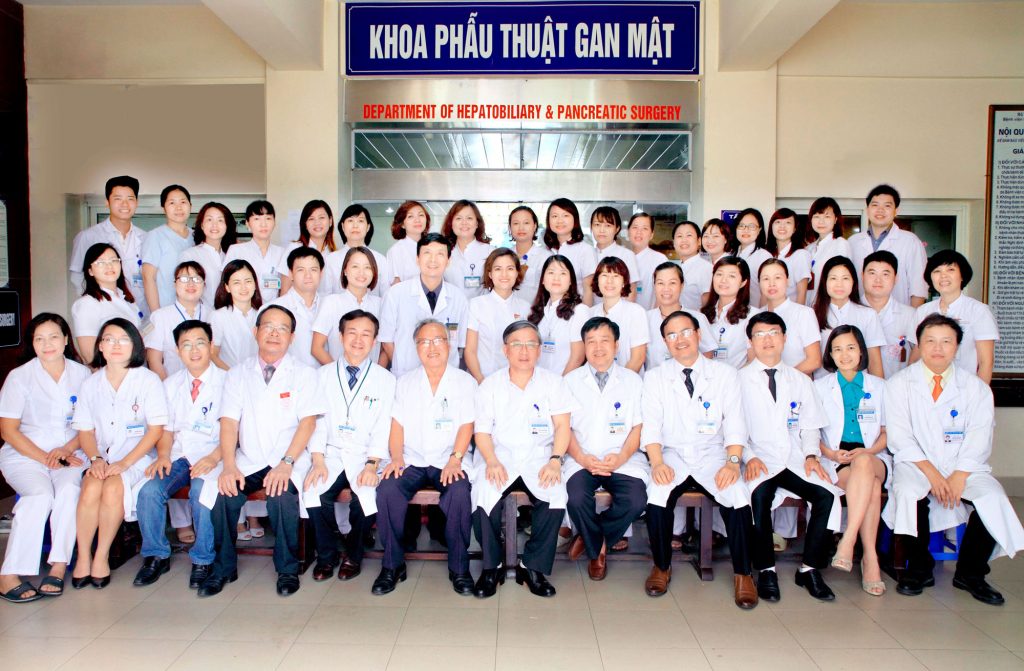 1. Name of the department: Hepato-biliary Surgery
       2. Phone: (04)38253535 (Ext.:232)
       Consultation unit: room 262, 2nd floor, C2 Block(Ext.: 404).
       3. Development history of the department:
       The department was established in 1977under the Decision of Professor Ton That Tung's and the Associate Professor Nguyen Thuyenwas the first head of the department. With a capacity of 39 beds, the department has provided surgical treatment for various hepato-biliary-pancreatic diseases such as gallstone, bile duct tumor, liver tumor, pancreatic head tumor, liver abscess, acute pancreatic inflammation, portal hypertension, biliary hemorrhage, hepatic cystand many other surgically gastroenterological diseases.
       In late 1993, the first case laparoscopic cholecystectomy was implemented by the specialists of our department.
       In 2014, we implemented the first laparoscopic hepatectomy in Vietnamand then the firstlaparoscopic duodeno-pancreatectomy.
       During 10 recent years, many specialized surgical procedures have become routine such as bile duct endoscopy – on-operation gallstone crushing, gallstone crushing via Kehr tunnel, ultrasonic scalpel hepatectomy, endoscopic hepatectomy, high frequency wave for liver cancer…
       4. Functions:
       Providing clinical examination and therapeutictreatment for hepato-biliary-pancreatic diseases. During 2015, there were 4.402 outpatients, 3.117 inpatients, among them, 1.503 patients were operated
       Applying advance technology in diagnosis and treatment
       Providing training for trainees in all levels from nursing to Ph.D students.
       Conductinginstitutional, ministerial, and national level scientific studies.
       Providing technical assistance to satellite hospitals and implement 1816 project, under the Direction of Planning department and technical assistance center.
       International cooperation: collaborating with foreign hospitals, providing training on laparoscopic surgery for international surgeons.
       Participating in social activities triggered by the hospital directorate, Labor Union, Youth Union
       5. Organizational structure
       5.1 Current department leadership:
       Acting head: Do Tuan Anh, MD., PhD.
       Deputy head: Tran Dinh Tho, MD., PhD
       General head nurse: Tran Bao Hoa, BA.
       2 sub-head nurses for assigned areas: Nguyen Thi Hang and Do Cam Anh
       5.2 Previous leadership:
       Associate professor Nguyen Thuyen
       ProfessorDo Kim Son
       Associate professor Tran Gia Khanh
       Associate professor Doan Thanh Tung
       Dr. Do Manh Hung
       Other staffs: 44 in total. Among them, there are 9 MDs (1 Associate Professor, 4 PhDs, 4 Masters). 2 of 9 are lecturers of Hanoi Medical University. There are 34 nurses including bachelor degree: 8, under-bachelor: 4, and intermediate level nurses: 22. There is one caregiver.
       Achievements:
       Successful implementationof all assigned tasks including examination, treatment, nursing care and emergency services
       Capacity of applying advance technology in order to keep pace with other countries in the region.
       Pioneer in applying complex surgeries so that the department has been taking lead in terms of technical expertise in the country.
       The number of examined, operated, treated patients has increased and there have been more and more severe patients saved. Mortality decreased from 10% down to 1%. The number of patients who have been treated and operated increased by 150% more than the assigned quota. No staff was reported misbehaving.
       Participation in liver transplantation and in monitoring the patient before and after transplant. 
        *  Training:
       All physicians of the department have been giving lecture to trainees, including nursing, medical students, various types of post-graduate students, PhD, and international students.
       Technical assistance to provincial and satellite hospitals:
       The list of hospitals that have been receiving technical assistance from the department includes provincial hospitals of Bac Ninh, Nam Dinh, Thai Binh, Hung Yen, Ninh Binh…, hospitals in the satellite hospital network.
       Providing training for healthcare staffsfrom provincial and satellite hospitals.
       *Rewards/titles achieved for the past 10 years:
       Group rewards/titles:
       Excellent team: 2004; 2006; 2007; 2009; 2010; 2011; 2012; 2013; 2015.
       Certificate of satisfactory progress by Ministry of Health: 2006; 2008; 2009; 2011; 2013.
       Certificate of achievement by Prime Minister in 2009 for the period of 2007-2009.
       Labor medal grade 3 in 2012. 
       INDIVIDUAL REWARDS/TITLES:
       Including 1 Labor medal grade 3; 2 Certificates of achievement by Prime Minister; and some others by Minister of Health.
       7. Direction of development:
       Continue to go beyond what have been achieved;
       Improve diagnosis and treatment focusing on patient satisfaction.
       Especially pay attention to the development and improvement of advanced treatment techniques such as: laparoscopic gallstone crushing, endoscopic common bile duct gallstone removal, hepatectomy, common bile duct cystectomy, duodeno-pancreatectomy, use of ultrasonic scalpel and Ligasure in hepato-biliary surgery, high frequency wave in treatment of liver tumor...,
       Pay attention to training as well as scientific research.
       8. Examination schedule at hepato-biliary consultation unit:
       From Monday to Friday, except holidays.
       AM: 07.30 – 11.30
       PM: 13.30 – 16.30(summer) and 16.00 (winter).