The Center of andrology
The Center of andrology
Introduce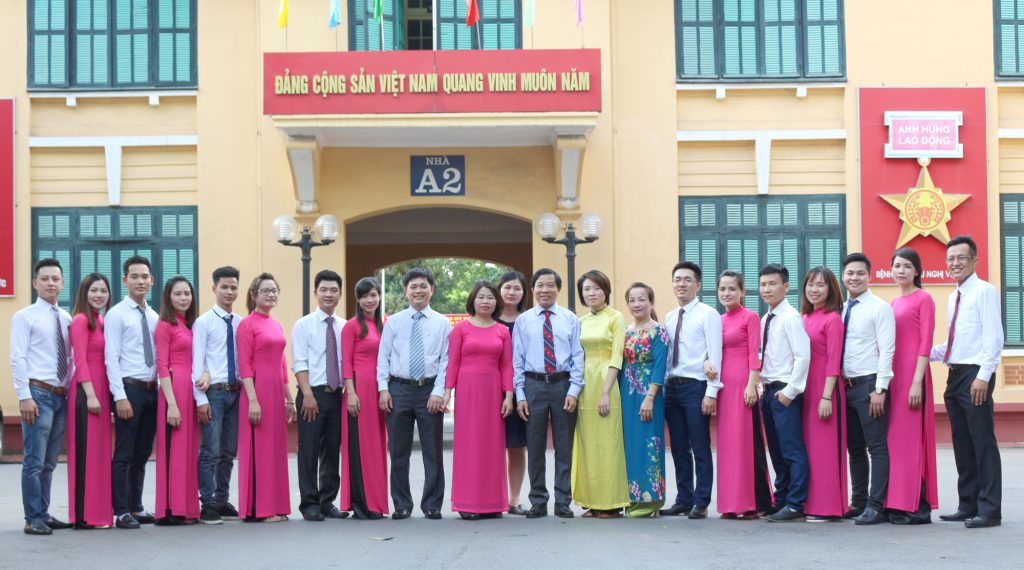 1. Name: The Center of Andrology
2. Contact:
             Address: Floor 4, B1 Building, Vietnam – Germany Hospital
             Examination room: 237, C2 Building, medical examination area
             Telephone: 043.8253531/043.8253535 (extension number 820)
3. Development history:
              Grasping the needs for Vietnamese male diseases treatment, the Director of Vietnam – Germany Hospital signed the decision on establishment of Center for Research on Men's Health in Urologic surgery ward in 2002.
              Since it was established, The Center for male sexual medicine has examined male patients with an increasing number and starts to exceed a small unit, in which creats great success in the health sector in Vietnam. Originating from the actual needs and orienting toward the development of a new industry, the Minister of Health signed the Decision No. 172/ QD-BYT dated 01/17/2006 on establishing the Center for male sexual medicine under Vietnam – Germany Hospital.
              The Center for male sexual medicine, Vietnam – Germany Hospital was established and is also unique until now in the whole country by the Ministry of Health, specialized in examination and treatment of urological – andrological diseases for men (hereinafter referred to male diseases). The center converges leading and prestigious specialists in urinary – urology men studies with devices of examination, diagnosis and treatment of modern diseases. Besides examination and treatment, The Center for male sexual medicine, Vietnam – Germany Hospital is "cradle" studying science and training male disease doctors for lower line hospitals.
              The purpose of the Center is increasingly improving the diagnosis and treatment quality of male diseases as well as getting in application development of modern techniques in order to achieve high efficiency in diagnosis and treatment. For over ten years of development, the Center has examined consulted and treated for hundreds of thousands of patients, bringing happiness for many couples and families. The Center for male sexual medicine, Vietnam – Germany Hospital always tries its best to perform the assigned tasks, deserving as pioneer of new specialty – Men's studies.
4. Functions and tasks:
            4.1. Examination, treatment, consultation of related pathologies, diseases for patients visiting Vietnam – Germany Hospital, namely: Examination, emergency, treatment of male disease – urology andrological specialty; Consultation is to give the best treatment for male patients; Health consultation, issues related to male diseases.
             4.2 Staff training: As practice facility of training center - Vietnam – Germany Hospital, the Medical universities and other training facilities; training Medical staffs at the graduate level (MD, MA, resident physicians, Specialty doctor II, Specialty doctor I, etc.); university, college, etc.
             4.3 Scientific research: Preside over and participate in scientific research, application development of scientific advances work to serve examination, treatment, disease prevention and early detection.
             4.4 Line direction
             4.5 Dissemination and disease prevention
              4.6 International cooperation: actively exploit, establish cooperation relation and exchange experiences and specialties in examination, scientific research and personnel training, associating with other countries and international organizations on health services in accordance with law.
              4.7 Management of The Center for male sexual medicine
5. HR Organization
             5.1 Present leaders
              Director of the Centre: PhD. Nguyen Quang
              Deputy Director of the Centre: MD. Dr. Trinh Hoang Giang
              Acting Chief Nursing: Nurse Nguyen Thi Thu Ha
             5.2 Former leaders:
              Prof. PhD. Tran Quan Anh;
              Specialty doctor II, MD. Nguyen Phuong Hong.
              5.3 Number of personnel in the Centre:
               Doctors: 5 (1 Prof. PhD, 1 PhD, 3 MDs), Nurses: 16
6. Achievements:
               Currently, the Center examines an average of 400-500 patients a week, the number of major and minor surgeries is about 30-50 patients. With the best efforts, The Center for male sexual medicine  has successfully treated many patients with many diseases:
                - Internal treatment: male infertility, male menopause, male hypogonadism, erectile dysfunction, ejaculation disorders, urinary tract - genital infections, genital inflammation - skin lesions…
                - Surgical treatment: Testicular varicocelle veins, undecended testicles, artificial testicles inserting, testicular biopsy - epididymis, epididymis cysts - spermatic cord cysts, testicular membrane effusion,...
                Penile surgeries: Penile plastic surgery: shaping urethra - hypospadias, urethral segment missing, bent penis - La Peyronie, penis shaping, artificial penis inserting, surgical treatment of erectile dysfunction, ejaculation disorder, ...), surgery of microsurgical penile connection...
                - Surgery in infertility treatment: vas deferens connection - microsurgical vas deferens, vas deferens connection - microsurgical epididymis, reveal vas deferens imaging
                - Pelvic surgeries: cystic seminal vesicle cutting, seminal vesicles cutting to treat seminal vesicle diseases
                - Surgeries involving with the urinary tract: Urethral varices electrocautery, endoscopy for treatment of urethral bleeding upon erection, cutting for handling seminal crest - prostate - bladder neck, endoscopy for treatment of ejaculation disorders (no ejaculation, difficulty ejaculation, ...)
                - Other surgeries: sexing surgeries for cases of sex differentiation disorders, surgeries for treatment of Gynecomastia,...
                The Centre has collaborated with the Maternal and Child Care Department, Ministry of Health to organize training courses on Men's Health for doctors in reproductive health centers in 64 provinces in the whole country.
                  As a practice facility for students and therapists; a place of learning and research of fellows, resident physicians, annually, The Center for male sexual medicine coordinates with the Center for Training and Leadership of Vietnam – Germany Hospital line to organize basic training courses on Men's Health with hundreds of students have graduated, contributing to expanding the number of doctors on Men's Health at Medical Facilities.
                  Scientific research and application of scientific and technological advances are to improve quality of examination, diagnosis and treatment. Every year, dozens of scientific research projects are implemented at the Centre.
                   International cooperation: Activities of The Center for male sexual medicine is a necessary model, consistent with the operational model of all hospitals in the world, which will strengthen relations with practice and training facilities at home and abroad, academic exchanges with international experts in the high professional field.
                   Doctors of the Centre currently are members of many international associations and organizations such as: SIU - Société Internationale d'Urologie, AUA - American Urological Association, ESHRE - European Society of Human Reproduction and Embryology.
7. Development orientations
                     Currently, the number of hospital beds is 30, but actually, we have to arrange up to 37. However, this number still does not meet the patients' demands. There are always overloaded days without empty hospital beds. Therefore, the Centre strives to scale up to 40-60 hospital beds as soon as possible (2017-2020), then adjust the planning depending on the actual requirements.
                     In the modernization trend of highly technical treatment means, application development of modern technologies in health advice, care and treatment of patients to catch up with the times, The Center for male sexual medicine recommended to be equipped with high-tech treatment machines such as erectile dysfunction treatment machines by shockwave, surgeries with robots' support, ... In the future, we anticipate applying stem cell technology in the treatment of male diseases with the goal of becoming a leading center throughout the country on men's health and on a par with regional countries.