Hepato-Biliary Surgery
Hepato-Biliary Surgery
INTRODUCE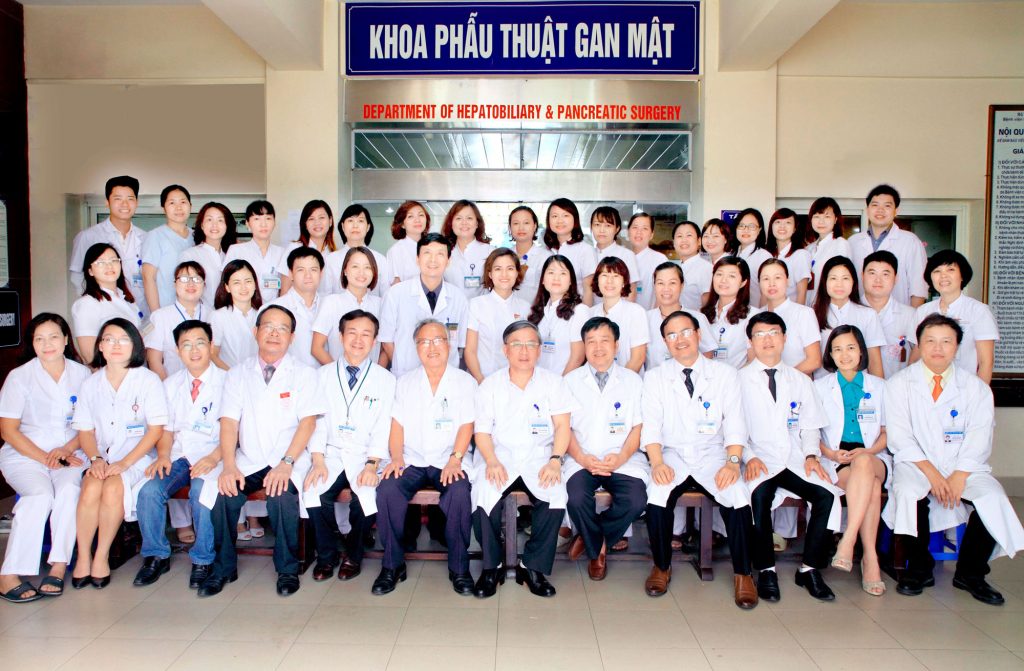 Name of department: Hepato-Biliary Surgery Department
Contact:
Address: 6 th floor, B1 building – Viet Duc University Hospital
Clinic room: No. 262 – 2 nd floor - C2 building
Tel: (024)38.253.535 (ext - 232, 404)
Development history:
In 1977, Academician and Prof. Ton That Tung, MD, decided to establish Hepatobiliary Surgery Department.
Over 40 years of operation and development, Hepato-Biliary Surgery Department has always been a leading and specialized surgical center in the field of examination, treatment and surgery for hepatobiliary and pancreatic diseases. Every year, this is the place where thousands of difficult and complicated surgeries are performed, mainly major surgeries at classification I and special such as: large and small hepatectomy for liver tumors, cephalic duodenopancreatectomy for periampullary tumor
, hepatobiliary  stones, hepaticojejunostomies, bile duct cystectomy ... and a series of other classic surgeries ... with leading experts in Vietnam, together a team of well-trained domestic and foreign physicians. Always at the forefront of applying new techniques with modern equipment equipped
In 2006, for the first time, Vietnam has performed hepatectomy laparoscopically for liver tumor by doctors of Department.
Endoscopic application has brought such marvelous privileges to patients:
In 2014, department carried out  cephalic duodenopancreatectomy for pancreatic tumor and common bile duct cyst by laparoscopic surgery.
4. Missions:
4.1. Examination and treatment:
- Biliary diseases: Stones (gallstones, hepatobiliary
stones, recurrent stones); gallbladder diseases (polyps, tumors ...); cholangiocarcinoma, biliary tract cyst, ampullary tumor (Vater), biliary stenosis, congenital biliary disease ...
- Liver diseases: Primary and metastasis liver cancer, benign liver tumors, liver follicles, cirrhosis, liver abscess, viral hepatitis ...
- Pancreatic diseases: pancreatic cancer, benign pancreas tumors, acute pancreatitis, chronic pancreatitis, pancreatic cyst...
- Other diseases.
4.2. Training and scientific research:
Training healthcare staff
Applying advances and science and technology in diagnosis and treatment of hepatobiliary diseases, implementing scientific projects at all levels
4.3. Other missions: direction, international cooperation, quality management ...
Personnel:
5.1. Incumbent leaders board:
Head of department: Mr. Do Tuan Anh, MD, PhD
Deputy Head of department: Ass. Prof. Tran Dinh Tho, MD, PhD
Mr. Nguyen Hai Nam, MD, PhD
Head nurse: Mrs. Tran Bao Hoa
Sectional Head nurses: Mrs. Nguyen Thi Hang and Do Cam Anh.
5.2. Number of employees: department currently has 50 staff, including:
Doctor: 01 Ass. Prof, 03 PhD, 02 2nd degree specialized doctors, 02 Master, 01 studying postgraduate
* Nurse: 37
- 10 bachelor
- 20 college
- 07 intermediate
* Healthcare assistant: 01
6. Achievements:
6.1. Professional work:
Develop specialized techniques in the field of hepatobiliary surgery, excellently complete all assigned tasks in medical examination and treatment, emergency treatment, treatment and surgery for patients in the field of Hepatobiliary area. On average, department conducts surgery every year about 1500 - 1600 cases, most of them are difficult, complicated, major and special surgeries.
Always apply science and technology in specialized fields to keep up with regional countries. Boldly implement complex and less invasive surgeries, always keeping the leading position in the country in the field of specialty. The number of patients receiving medical examination, inpatient treatment and surgery is increasing. All of staff well follow ethics in the profession, improve professionalism.
6.2. Training and scientific research activities
Participate in teaching for students, bachelor of nursing, specialist
orientation, specialist level I, specialist level II, Master, graduate student, foreign students. Participate in many levels of research projects.
6.3. Direction activities:
Participate and hand-on training for provincial and district hospitals
7. Development orientation:
Continue to promote the achievements, pay attention to the treatment and services, towards the satisfaction of patients.
Especially, paying attention to the development and improvement of techniques, the application of scientific and technical advances
Focusing on training, teaching as well as scientific research: Research on the application of high-frequency incineration in surgery, 3D laparoscopy application, robotic laparoscopic in hepatobiliary surgery.