The Center of andrology
The Center of andrology
Introduce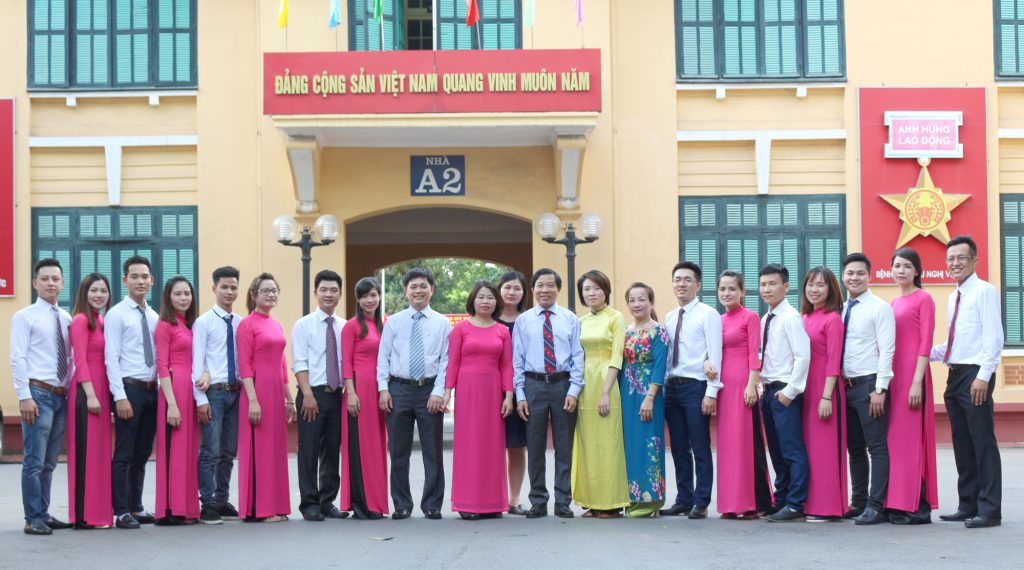 Name of department: Andrology Center
Contact:
Address: 4th floor – B1 building.
Clinic: No.222 - C2 building; On-demand clinic: No. 1 - C4 building. 
Hotline: 096 882 7671 
Tel: (024)38.253.531/ (024)38.253.535 (ext - 820) 
Website: www.namhocvietduc.vn 
Facebook: www.facebook.com/namhoc.vietduc 
Development history:
Andrology Center of Viet Duc University Hospital – Ha Noi is the first Andrology Center of Viet Duc University Hospital that established, and it is also the only one up to the present time in the whole country to be decided by the Ministry of Health, specializing in examination and treatment of diseases of the urinary system - genitourinary system of men, reproductive health care for men and related issues.
With 20 years of history, the center is a place of leading and prestigious Andrology-Urology experts with modern medical examination, diagnosis, and treatment facilities.; a "cradle" for scientific research and training for male specialized doctors nationwide. 
Missions, duties:
      4.1 Examine and treatment for Andrology – Urology diseases, specialty consultation to treat related diseases for patients visit VDUH for examination.
      4.2 Staff training: a training and practice facility for medical staff of undergraduate and postgraduate academy level
     4.3 Scientific research: chaired research and participate in scientific research.
      4.4 Direction activity: Training staff, specialty support for medical facilities in Andrology diseases.
   4.5 Propaganda, disease prevention:  propaganda and popularized of Andrology diseases
      4.6 International cooperation: Activist cooperation with foreign training and practical facilities, learning exchange with international experts.
4.7 Management of Andrology Center.
5. Personnel:
        5.1 Incumbent leaders:
              Director: Ass. Prof. Nguyen Quang – MD, PhD;
              Vice Director: Dr. Trinh Hoang Giang – MD, MSc
              Head nurse: Mrs. Nguyen Thi Thu Ha, BA
        5.2 Predecessor leaders:
              Prof. Tran Quan Anh – MD, PhD;
              Dr. Nguyen Phuong Hong – MD, PhD
        5.3 Number of employees:
           Doctors: 6 (1 Prof., 1 Ass. Prof, 4 Masters)
           Nurses: 18
Achievements:
     Annually, Center examines and treats for thousands of patients. With its best efforts, Andrology Center successfully treated many patients with many diseases:
            - Varicocele
            - Undescended testicle
            - Peritoneal tubules leftover diseases: Inguinal hernia, spermatic cord cyst …
            - Male infertility disease, deploy routine microsurgery testicular biopsy technique - epididymis, vasectomy - microscopic epididymectomy …
            - Erectile dysfunction, ejaculation disorder…
            - Diseases of the foreskin
            - Urinary tract infections, genital infections, sexually transmitted diseases
            - Prostate disease, seminal vesicle pathology
            - Surgery for male genital malformations: low deviation of the urethral opening, undescended testicle …
            - Penis aesthetically surgery: penile curvature, penile enlargement …
            - Artificial cylinder placement      
            - Genital cancer treatment: Testicular cancer, penile cancer…, implementing routine laparoscopic surgery for femoral lymph node dissection for penile cancer patients.
            - Sex reassignment surgery for sex differentiation disorders
            - Microsurgery to reconstruct genital organs due to trauma and disease …
     The Center has cooperated with Maternal and Child Health Department, Ministry of Health to open Andrology training courses for doctors at Reproductive Health Centers in 64 provinces and cities across the country.
 Andrology Center coordinate with Training and Direction of Healthcare Activities Center – Viet Duc University Hospital organize training classes in Basic Andrology.
Working with medical universities guide many medical staff at postgraduate level (master, resident doctor, 1st and 2nd degree specialized doctors ...)
     Scientific research, application of scientific and technological advances to improve the quality of examination, diagnosis and treatment, create trust and meet the satisfaction of patients.
      International cooperation: Activist cooperation with foreign training and practical facilities, learning exchange with international experts.
 The Center's doctors are currently members of many international associations and organizations such as: SIU - Société Internationale d'Urologie, AUA - American Urological Association, ESHRE - European Society of Human Reproduction and Embryology, ISSM - International Society for Sexual Medicine, APSSM - Asia Pacific Society for Sexual Medicine, …
Development orientation:
   In the trend of modernized high-tech treatment instruments, applying modern technologies, Center is leading toward equipped with high-tech treatment machines like erectile dysfunction treatment machine using shockwave, surgery with robot assisting, …, applied stem cell technology or other advanced technologies in the treatment of gynecological diseases with the goal of maintaining the position of leading center of Andrology nationwide, on par with other countries in the region.