A nearly 2-year-old kid cut his finger because finger was trapped in cu-roa belt of car washing machine
09/01/2020 08:11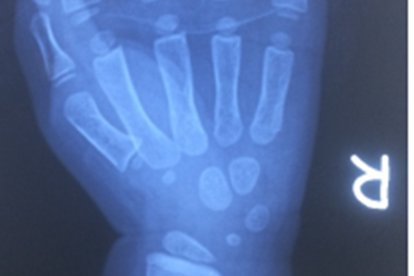 Viet Duc University Hospital (Ha Noi) has just treated the case of a pediatric patient V.T.H.V, 23 months of age (Tam Son, Song Lo, Vinh Phuc) hospitalized with many complicated injuries on his right hand.
 According to family members, V stuck his hand into the cu-roa belt of the car washing machine at home. After being treated at the provincial hospital, V was transferred to Viet Duc University Hospital at 10am on December 1st, 2019  with a fingers from 1 to 5 were injured, broken tendon at 2 levels for finger 2, 3, 4, and cut off almost to leave finger 5 at the position of the inter-proximal joint. Baby's hand is full of oil stains.
 Dr. Nguyen Hoang Quan, MA, in the Upper Extremity Surgery and Sports Medicine Department (Viet Duc University Hospital) is the person who directly operated for V said that this is an operation of a young child, the doctors had carefully and meticulously concentrated on the operation, conserving finger 5, suture for flexor tendon of finger 5, and suture for extensor tendon of fingers 2,3,4 and splint on the forearm. Postoperative day 2, the fingers of pediatric patient with warm extremity but still need to monitor more. 
Dr. Nguyen Hoang Quan, MA, recommends to always have a person to care when children are eating, sleeping, playing. Do not allow children to turn, crawl, walk, lie in a hammock or bed when no adults are around. There are fences or guard bars in places such as stairs, windows and balconies with a height of at least 75cm, ensuring the stairs and steps are well-lit, easy to walk, not to damp, slippery floors.
LH/ Báo Lao động