Doctors in Viet Duc University Hospital continuously regained life for many critical foreign patients
24/06/2019 12:01
Suckhoedoisong.vn – In the past time, doctors of Viet Duc University Hospital have done many surgeries, treatments for foreign patients from different countries like United States, Japan, South Korea, France, South Africa, ….
By the end of 26th April, Viet Duc University Hospital announced that within the day hospital had constantly saved lives of many foreign patients. A male Chinese patient names Wang Jun, 50 years old, had traffic accident, hospitalized in which his right leg was swollen and deformation, fractures on 1/3 middle of tibia and fibula. Patient was immobilized, done different examinations, ready to do the surgery.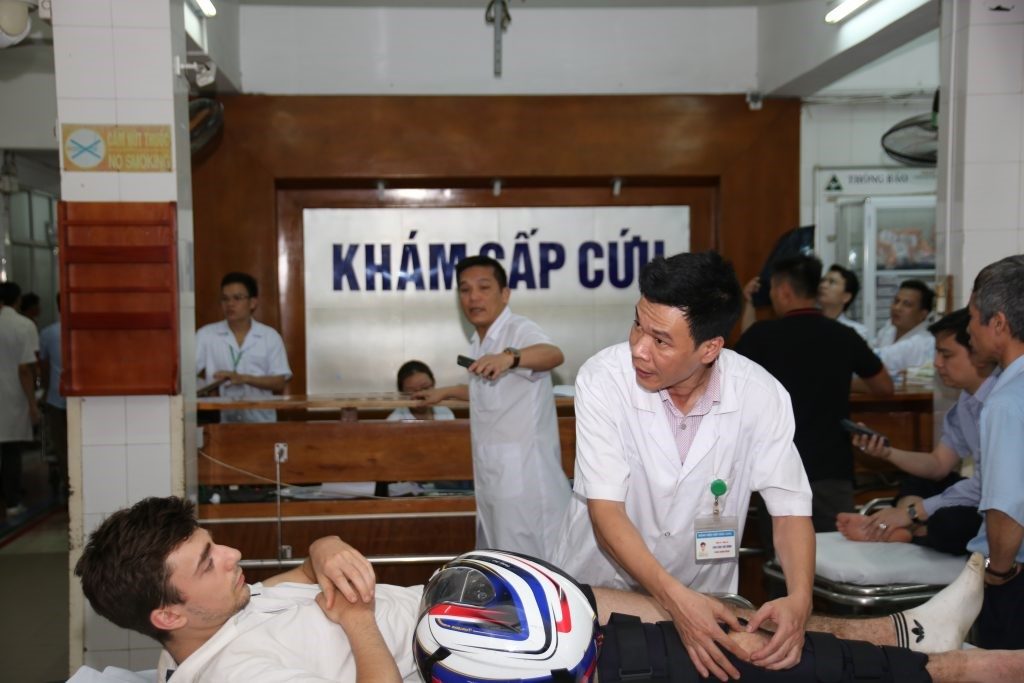 Second case is a French patient, male, 20 years old, got into traffic accident, undefined situation, first aid at Lao Cai General Hospital then transferred to Viet Duc University Hospital. X-ray film shows that patient has fracture of patella, dislocated a bit and injury to anterior ligaments. The doctor said, if there is no vascular injury, the doctor will give the patient a cast and follow up further.
Taiwanese billionaire "pay back" doctors in Viet Duc University Hospital 100.000 USD to train human resource in organs transplantation
The above are just two of hundreds of foreign patients who are rescued by doctors of Viet Duc University Hospital and treated at hospital in recent times, in which there are many cases of "very special" patients.
Recently, in early 3/2019, Viet Duc University Hospital has successfully operated emergency surgery for a Japanese tourist suffering from aortic dissection type A, which can be very complicated, according to Dr. Vu Ngoc Tu, a key member of surgeons on duty said, with more than 200 experience of emergency surgery of aortic dissection type A treated at Viet Duc University Hospital for nearly 10 years, but there has not been any case of serious and complicated like this patient.
"The surgery process is very tough, stressful, at least 10 hours, with the most difficult and complex techniques of open heart surgery, such as deep hypothermia (down to 24oC), stopping temporary circulation of the lower half of the body, selective brain blood on both sides, repair of the aortic valve, replace the aorta with artificial materials, selective blood flow and then take arterial thrombosis and open the right leg to try to preserve extremities "- Dr. Tu told.
Ass. Nguyen Huu Uoc, chief of the department of cardiovascular and thoracic surgery, said that after the process of very complicated surgery and postoperative resuscitation heavy with many modern medical facilities, the patient's condition has improved day by day.
Or before that, a life-saving case of a Taiwanese billionaire who was seriously ill during his visit to Vietnam, was rescued by Viet Duc University doctors. After being discharged from the country, this wealthy patient has supported US $100,000 for Viet Duc University Hospital, with the aim of training doctor in the field of organ transplantation in Taiwan sharing by Minister of Health Nguyen Thi Kim Tien in a conference in early 2019 discussing the attraction of foreigners to Vietnam for medical care and treatment showed the application of high technologies in treatment and success with many difficult cases of Vietnam's health sector in general, Viet Duc University Hospital in particular.
About the case of Taiwanese billionaire patient, Ass. Prof. Nguyen Huu Uoc – Chief of Cardiovascular and Thoracic Department, Viet Duc University Hospital said, the patient named Hsu Tse Sheng, 73, was hospitalized in extremely critical condition.
After a quick discussion with the patient's relatives, contact the Taiwanese medical care via diplomatic channels, determine that there is no other solution and if the patient is not handled immediately, the patient will certainly and quickly die, so right in the afternoon of the same day, emergency Hybrid surgery was carried out in the Hybrid unit of the Department of Cardiovascular and Thoracic Department, including: right carotid artery bypass – left – underside of the left artery, lower arterial root node left lash, inserted aortic stent Graft from the aortic aneurysm close to the visceral artery, laparoscopic surgery removes blood from the pleural cavity.
Then resuscitation is very positive for patients. Doctors have regained life for patients after more than 4 hours of surgery.
In addition to the above patients, Ass. Prof. Nguyen Huu Uoc also shared: "We have just intervened in a timely manner, saving the life of a male patient (72 years old, American nationality) working in Hanoi and suffering from acute type A aortic aneurysm spreading down to the lower extremities".
In the night, patients receive intensive resuscitation and emergency surgery. 9-hour surgery with the participation of more than 15 medical doctors, of which "captain" is Ass. Prof. Nguyen Huu Uoc, ended well.
It is known that during the past time, the Department of Cardiovascular and thoracic Surgery, Viet Duc University Hospital has provided emergency treatment for complex cardiovascular diseases for 14 patients in the US, Japan, Korea and many other countries to cure many different diseases… After the surgery, the patients recovered with good health.
Also, the department has saved many foreign patients' lives, Dr. Le Hong Nhan – Head of Neurology II, Viet Duc University Hospital said that in the past year, the Department had timely intervened and successfully treated about 20 foreign patients from French, South African, Laos, China.
What to do to make foreign patients stay?
In the past few years, Viet Duc University Hospital has always been a "bright phrase" in emergency treatment for successful treatment of many serious illnesses for foreign patients in Vietnam, as well as Vietnamese people went abroad to treat but fail then return. … Statistics show that in 2018 alone, there were 150 cases of successful treatment by medical doctors in Viet Duc University Hospital.
According to Ass. Prof. Nguyen Huu Uoc, the qualifications of doctors in Viet Duc University Hospital can treat difficult cases in the world. This success continues to affirm Vietnam's intensive health system capacity, meeting practical needs in economic development and tourism, with the number of international visitors increasing rapidly over the years, in which there are many visitors with the risk of cardiovascular events.
In fact, there are many foreigners who come to Vietnam to work or travel and need medical care.
However, Ass. Prof. Nguyen Huu Uoc also frankly said that the health sector is a service sector, so social needs need to be met. At present, in terms of infrastructure and non-follow-up services of health, our country is not synchronized, so it cannot meet the needs of foreign patients and patients with domestic financial resources. Therefore, to meet the needs of this group of patients, it is necessary to improve the quality of services.
"Particularly for Viet Duc University Hospital, the strength is that there is a very good workforce and mechanism, but the infrastructure does not meet the demands of the demanding foreigners such as private rooms, 24h service … That is what we need to have a change of nature "- Ass. Prof. Nguyen Huu Uoc said.
Also on this issue, Dr. Le Hong Nhan said that the qualifications of doctors and technical equipment of Viet Duc University Hospital meet fully, not inferior to the modern hospitals in the region, are the professors and doctors of the countries have developed medical science like US, UK, Japan already recognized.
At the same time, Viet Duc University Hospital is also creating networks of relationships with neurosurgical centers in developed countries such as France, Japan, America, etc. With difficult cases, these experts can be invited to the international consultation.
But in the process of curing for foreigners, many of them after being cured by Viet Duc Universitay Hospital physicians are returning to their own country or a third country to receive better post-operative medical services. .
"This fact shows that we can save life of foreigners, but to keep them in the future, we need to have a change in investment in synchronous disease prevention, professional manpower … "Said Dr. Nhan.
The Ministry of Health is promoting a project of "reverse drawstring" to attract overseas Vietnamese and foreigners to come back to Vietnam for medical care. This scheme also drags Vietnamese people who need medical treatment abroad to stay in the country.
According to Minister of Health Nguyen Thi Kim Tien, in order to do that, it is necessary to upgrade quality synchronously from commune, district, provincial and central levels, to attract patients at the central level to go back to province and patients at the provincial level go to the district level instead of having to rush to the higher level or to go abroad to treat the disease.
Thái Bình/ Health and life