Donate blood safely and control the Covid-19 together with Viet Duc University Hospital
22/04/2020 08:59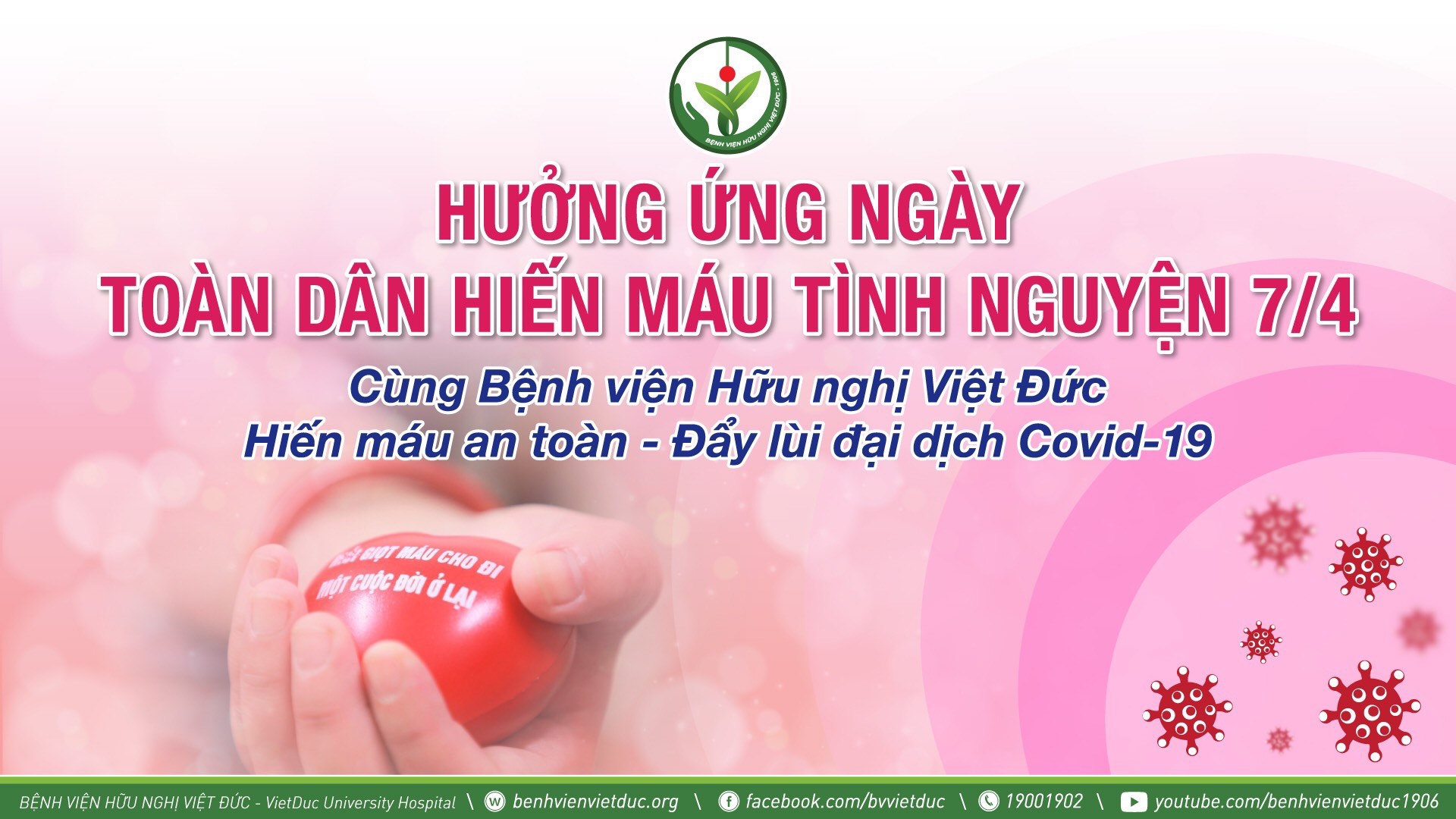 2020, just 20 years since the Prime Minister has issued the Decision that April 07th is  a National Day for Blood donation volunteer (7/4/2000 – 7/4/2020). Recently, General Secretary, President Nguyen Phu Trong made a Letter to all compatriots, comrades and soldiers over country to encourage every healthy good enough to be ready and willing to participate in blood donation program actively, and to encourage people to donate regularly for saving lives.
Viet Duc University Hospital (VDUH) is a surgical hospital at Special rank, usually receives many cases of traffic accident, occupational accident and other complicated diseases. Every day, the Hospital uses from 100 to 150 blood units and 20 platelet units. However, in this period, when COVID-19 spreading is very complicated, people hesitate to come to hospital to donate blood resulting serious blood shortage.
With aim to save patient's life, VDUH calls for volunteers to participate blood donation and healthy donors to donate platelet. Although it is a sensitive time to leave home but if we keep calm, know how to protect ourselves and obey all regulation of epidemic prevention, we can go for blood donation without any problems. 
At VDUH, during the epidemic time, the Hospital is implementing several actions to ensure the health for blood donation volunteers as followings: 
– Health staff is available at Gate No. 1 of VDUH (16-18 Phu Doan Street) to check volunteers' body temperature and help them to fill the medical forms. 
– When pass all required checks, volunteers move to Room No. 132 at C2 building to register, check health and give blood. 
– At blood donation point, hand washing liquid is available at many convenient places. Donors and health staff needs to wash hand regularly by soap or alcohol-based hand sanitizer.  
– Donors are recommended to honestly answer all questions about health conditions, risk assessment of COVID-19 infection.
–  When taking blood, both donor and health staff wear masks.
– After working hours, blood donation point is disinfected and sanitized all blood donation items to ensure the safe prevention.
To register for blood donation during the epidemic time, before going, volunteers kindly remember some following notes:
– Fulfill Medical form up at home.
– Provide telephone number in advance by calling to Hotline 19001902 or directly register on VDUH's fan page: facebook.com/bvvietduc for detailed instructions.
 Beside that, the Hospital also encourages healthy qualified donors to donate platelet.
Platelet donation is entire safe. Small cell donation by automatic extraction machine is called concentrated platelets. It helps each donation collect 6 platelet units, while one donor give 450ml whole blood can get only 1 platelet units. Concentrated platelet transfusion also reduces the risks of immune response appearance, HIV infection and other diseases transmission to patients.
The day before platelet donation, the donor needs to be relax, comfortable; to sleep enough, doesn't go to bed late, should eat lightly (less protein, less fat). After donation, he/she keeps normal diet and activities, limits the use of alcohol drinks before and within the first day after donation.
 VDUH acknowledges the kindness of all blood donation volunteers. You, who are lucky to have a good health, please give hands to share with the patients by the most practical action to be a blood donor for patients' lives.
 For all information, please contact:
 Hotline: 19001902.
 Ms. Tran Thi Trang, Social Work Department: 037.905.8386
 Hospital's fan page: facebook.com/bvvietduc