Exploding gas cylinder while cooking, young man was seriously injured
21/01/2021 08:15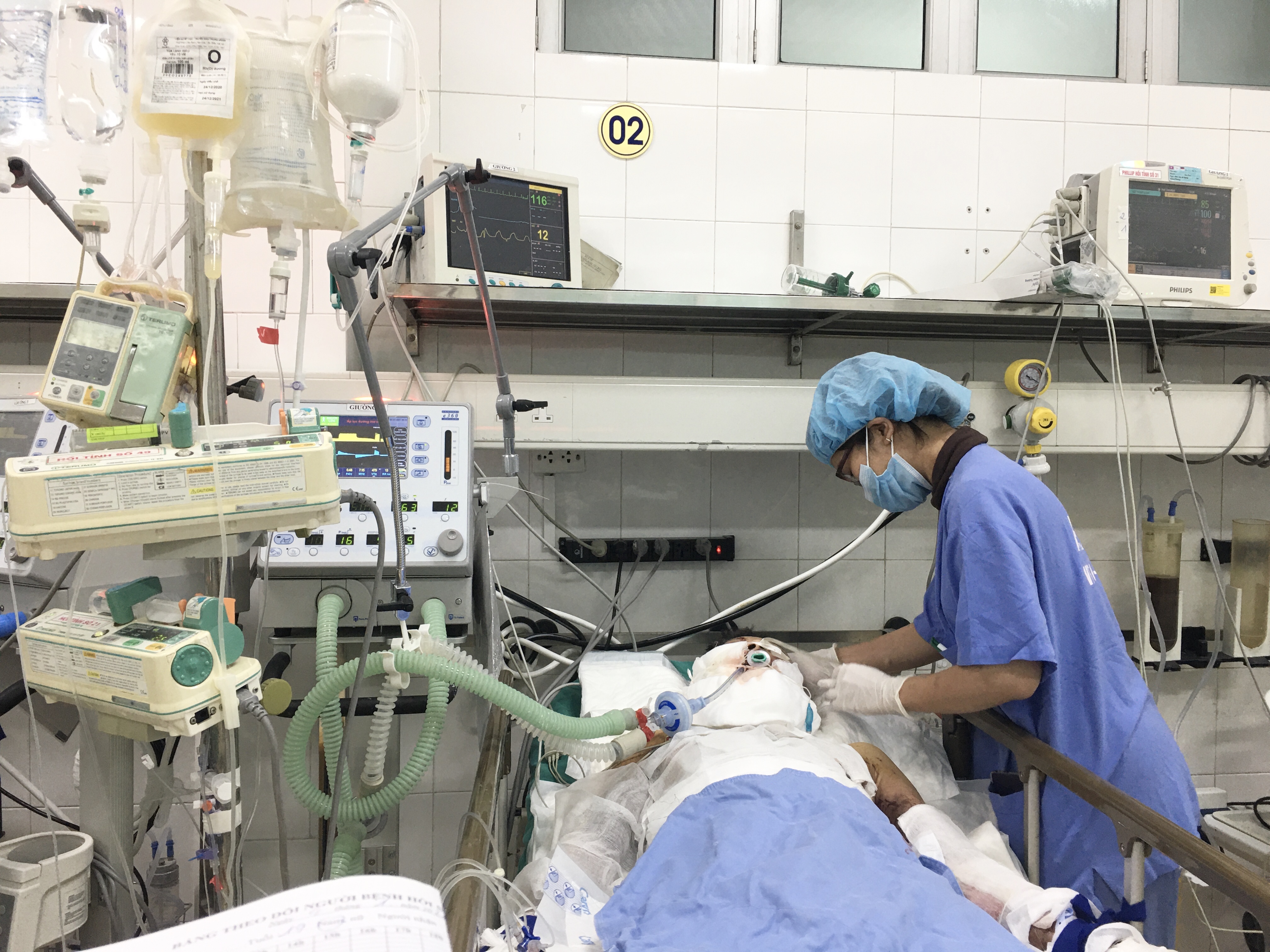 On January 05th, according to Viet Duc University Hospital, Hanoi, there are consecutive cases hospitalized in emergency due to gas cylinders exploding.
The first case was Mr. T.V.C, 18 years old, comes from Song Cong, Thai Nguyen province hospitalized in Viet Duc University Hospital with multiple injuries caused by 12kg gas cylinder explosion while cooking.
This patient was admitted in state of drowsiness, complex multi-wound soft-tissue: neck, abdomen, right ear, chin, right arm and hand…
Doctors have performed one operation on emergency for debridement, to remove dirty strange things as well as serious contusion skin and muscles; placed drainage and follow-up pulmonary lesions due to trauma.
Doctor Nguyen Thi Thuy Ngan – Head of Department of Anesthesia 1, Anesthesia and Surgical Resuscitation Center, Viet Duc University – said: Mr. T.V.C. still needs follow-up on lung damage and infection.
As his mother shared, when T.V.C. was cooking at home, the gas cylinder exploded, causing him to faint. Hearing loud bang, the neighbors quickly came to help and took him to the hospital.
Additionally, his cousin was also injured and was treated at the district hospital.
The second case was one male patient,  H.C.L., 21 years old, living in Me Linh, Hanoi, hospitalized in January 1st, with seriously crushed left hand and finger covered with bandages.
Patient L. said that while eating with hot pot, the mini gas cylinder suddenly exploded.
Doctors have indicated emergency surgery for amputation of his left forearm.
Doctor Phan Ba Hai – Department of Upper Extremities Surgery and Sport Medicine, Viet Duc University Hospital – said: currently, after surgery, the patient is alert, stable hemodynamic. He is being resuscitated by blood transfusion, antibiotics use, caring wound. Expected to be discharged after 3 to 5 days.
According to doctors, the exploding gas cylinder could easily cause injury. Therefore, to ensure safety in using, people should protect themselves and their family by purchasing gas and gas cylinders accessories (regulator valves, pipes, clamps) from well known business gas firms and regularly check the safety of gas cylinder.
For mini gas cylinder, people should use the labeled gas for only one, then discard because it is not safe to reuse. When the gas stove has peeled paint, rusted, the plug is loose or the stove is difficult to ignite and turn on, it should not be used because they are easy to leak gas outside, causing fire and explosion.