The surgery "saved" a man with 7 years of erectile dysfunction " ordering from superior, but not responding from subordinate – trên bảo dưới không nghe"
13/11/2019 07:28
According to statistics, up to 16% of men aged 20 – 75 have erectile dysfunction. There are young people who are "helpless" cannot control their sex lives.
On October 22nd 2019, at the Workshop "Penile implants for erectile dysfunction treatment", Ass. Prof. Nguyen Quang, Director of Andrology Center (Viet Duc University Hospital) sharing a case of 33-year-old male with 7 years of erectile dysfunction.
Patient who is married and has 1 child, had erectile dysfunction and treated with the method in many hospitals but not obtained satisfactory results.
In 2012, the patient suffered from incident with multiple injuries, pelvic fractures, right femur fractures, urethra trauma and underwent 18 surgeries.
"The surgery done on October 21st 2019 "changed" the life of patient. In surgery, doctor tried using inflatable prosthesis and patient's penis was erect and straight", Ass. Prof. Quang informed.
Accordingly, the artificially placed surgeries in patients with Ass. Prof. Nguyen Quang and Dr. Eric Chung, Head of Andrology Studies Division, Australian and New Zealand Urology Association; Secretary General of Asia-Pacific Gender Medicine Association.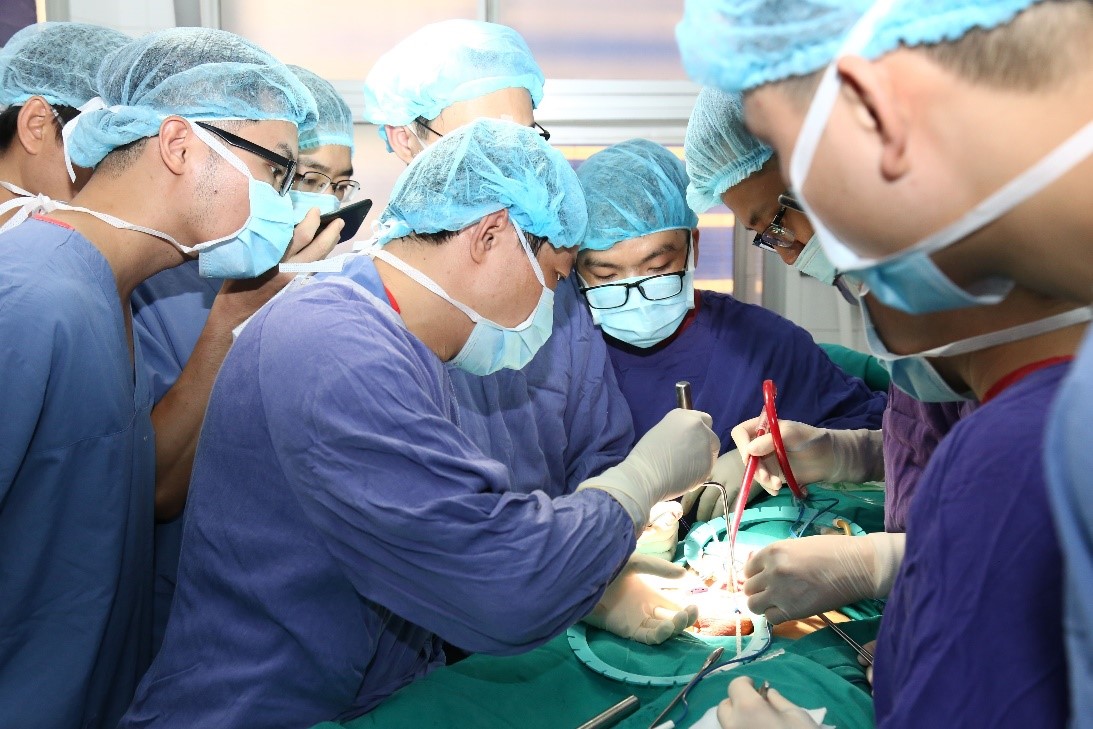 The patient was undergoing intubation. The doctor then made a small incision under the penis, about 2cm from the scrotum and placed in the patient's corpus cavernosum an artificial cave like two tubes.
"These two tubes work to make the penis erect like a real cave. Through this surgery, the surgeon continues to place a bag of fluid (sterile physiological saline) in front of the bladder, behind the pubic bone. Finally, put the pump in the middle of the scrotum. These three systems will be connected to each other through a duct system and the entire system is hidden inside the body, ensuring privacy and convenience in daily life.", Ass. Prof. Quang informed.
According to Ass. Prof. Quang, currently, the rate of erectile dysfunction is relatively high. An estimated 16% of men aged 20-75 years have erectile dysfunction and this condition increases with age.
Currently, there are many methods of treating erectile dysfunction, both medication and surgical, treating the cause, combining psychotherapy and supportive methods.
Although there have been many advances in treatment, especially in medical treatment and less traumatic methods, many cases still require the use of artificial cavernous surgeries to treat erectile dysfunction. As a result, people with erectile dysfunction will be more active in their erections, helping them to be more confident in life.
According to Ass. Prof. Quang, the rate of male erectile dysfunction is very high, which not only reduces men's sexual ability but also greatly affects the quality of life and family happiness.
However, in Vietnam, erectile dysfunction is also considered a silent, hard-to-speak condition, many " ordering from superior, but not responding from subordinate ", instead of going to the hospital for treatment they arbitrarily take very dangerous drugs.
Therefore, when there are any abnormal signs that make men unable to control "sex", they should go to the clinic with a specialist to solve this situation.
Hồng Hải/ Dân trí Journal