The tears from a man who donated his only son's organs to save 7 people
28/12/2020 07:32
The noble gesture of a father who donates organs of his only son with brain death caused by road traffic accidents to save people suffering from neighbors' gossips.
More than a year of painful day after donating organs of his only son who had road traffic accidents to save many people, Mr. Nguyen Van Sang (Luong Xa village, Kim Luong commune, Kim Thanh district, Hai Duong province) still had to wipe his tears when he noble gestured suffered many gossip from neighbors, …
 The pain of a father donated his son's organs
At the end of November 2020, returning to Luong Xa village, Kim Luong commune, Kim Thanh, Hai Duong, asked for Mr. Sang, a resident asked us back: "Are you looking for Mr. Sang who sole his son kidneys?"
In a small house at the end of a small alley, seeing a visitor coming in, Mr. Sang said heavily: "Did they told you that I sell my son' organs again, right?" In the corner yard, the woman over 60 years old looked up and stared at the guests, then quietly bent down to continue her work of fumbling pigs.
Mr. Sang sighed: "That is my wife, Duong's mother. She already has a mental illness. Since the day Duong left, her illness is getting worse and worse. All day, she was only taciturn and didn't talk to anyone"
Referring to his only son, Mr. Sang shed tears. He and Ms. Vu Thi Son got married when they were both over 40 years old. Therefore, when their healthy and handsome son Nguyen Hong Duong (SN 1999) was born, that was a treasure and pride of the old couple.
Not only handsome, Duong is also filial and obedient. Seeing his parents are old and weak, especially his mother is sick, finishing high school, Duong worked as a worker to support his family.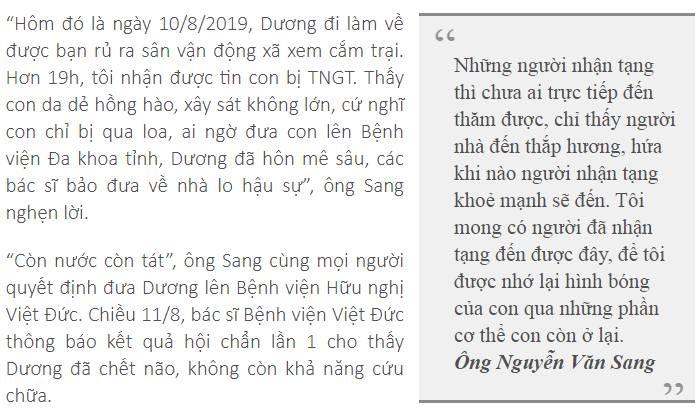 The bad news caused Mr. Sang to fall down, tears kept flowing. Many relatives advised Mr. Sang to take him home, but he insisted on sitting there, clenching his child's hand as if believing in miracles. However, the results of 2nd and 3rd consultation meetings are the same as the first time, extinguishing all hopes of the old father…
"I have to accept the truth. I was about to take my child back to take care of the situation when doctors at Viet Duc University Hospital came to ask me about donating my child's organs for medicine. Doctors said that my child died when he was too young, the organs in his body were very healthy, he could save many people"said Sang.
At that time, Mr. Sang was like a mess. His wife was already mentally ill at home. Since hearing the news of her son's accident, she was awake and lost consciousness, so he had to make the decision. In the past, Mr. Sang, like most people that close to him, had the concept of "death must be in a intact body".
But when reading the instruction sheet for registration of tissue donation, saving lives, he suddenly thought that his son could not be saved, while so many people were waiting to die, why he could not help his son do a meaningful thing to help people.
He asked his nephew who also took care of Duong in the hospital and his nephew said: "It is a blessing work. Thus, my brother will still live in this world, do many blessed works. Pain really hurts but I think you should do it".
Mr. Sang ran outside, sitting still. The thought of removing out breathing tube from his son, made his heart tighten, can't cry out loud. Nearly 2 hours have passed, Mr. Sang decided to put a pen to sign the organ donation form. Everyone in the room shed tears.
On the afternoon of August 12, 2019, a race of 300 doctors took place around 7 operating tables. Before that, many patients from places like Ho Chi Minh City, Nghe An, Hanoi, and Hung Yen received notification, immediately present at Viet Duc University Hospital to perform organ transplant from Mr. Duong's body.
 All tissues, organs: heart, lung, liver, 2 kidneys, 2 corneas and 9 tendons of Mr. Duong were donated to medicine for live-saving purpose. Right on August 12th, 2019, lungs, kidneys and corneas were working continuously for 15 hours by doctors, transplanting organs for 7 people. A number of other organs in Mr. Duong's body continued to be kept, and saved more people using transplantation.
Just wish those stayed behind be warm
However, when he finished taking care of his son funeral, Mr. Sang calmly heard a few words of his neighbors, and some from this family whispering about "selling" his organs. Someone even asked directly: "Selling your son kidneys get a lot of money right?" making his heart pain.
"Losing my son caused me so much pain. When deciding to donate organs to medicine, I always think that my child is gone, so donating the organs so that his body parts can be alive, helping many others. During the days at Viet Duc University Hospital, I heard doctors talk about many traumatic cases of kidney failure, blindness, severe pneumonia that had been cured for years. Thinking about it, families with children, and relatives with chronic illnesses like that, where do they get money to give to me? People' mouth are so poisonous, for the past year or so, I have also limited my desire to contact much because I am only afraid someone will say some words which hurt my heart" said Mr. Sang.
However, what comforted Mr. Sang that are people from Ho Chi Minh city, Nghe An, Hung Yen came to burn incense, thank you for the help of Mr. Duong's organs that their children, relatives are cured and healthy. But those charitable visits were also deprecated by some evil people. Someone even asked Mr. Sang: "They visit like that must give a lot of money, right?"
"My child has passed away, I sincerely wish those who received organs to be healthy and live a useful life. Thinking that the healthy parts of my son are in recipients' bodies I feel warm. Currently I work as a construction assistant to earn money, support my wife, so the old couple can depend on each other. I just wish she'd alleviate the pain of losing her child, her illnesses can be better, if she always likes that, I feel really bad … ", the man in his 60s said sadly.
Thanks to the lung donated by Nguyen Hong Duong, patient Nguyen Van Khuong (38 years old, in Chuong My, Hanoi) has recovered his health. Ms. Nguyen Thi Dien, mother of patient Khuong was so touched: "My son has been reborn. Without knowing what to say, my family is very grateful to the doctors, and donor's family whom give life to my child once more" Mrs. Dien shared emotionally.
In last 8 months old, Mr. Khuong has been continuously hospitalized because of bronchitis, asthma cough, and pneumonia. His health continued to deteriorate because his lungs were weakened, making him unable to breathe or walk, and always had to use a breathing machine. Before the lung transplant, Mr. Khuong had a complete end-stage bronchodilation, unless having transplantation, he would have to use a ventilator and had a life expectancy of less than 1 year.