Two male patients admitted to the hospital due to sexual accident
16/11/2020 08:53
Viet Duc University Hospital (Hanoi) recently received 2 patients at the same time for corpus cavernosum fractures after sexual intercourse.
The 1st case is Mr. V.V.T. (32 years old) from Phu Yen, Son La Province. He is married and has 2 kids. On 20th October 2020, he was admitted to the hospital with swollen and bruising penis for 2 days after a sexual intercourse and was diagnosed the corpus cavernosum rupture.
Doctors from Andrology Center, Viet Duc University Hospital performed an emergency surgery. The corpus cavernosum was ruptured about 1.5 cm and  surgeons removed the hematomas and repaired the tunica albuginea of the corpus cavernosum.
The 2nd case is Mr. V.V.A. (36 years old) from Luc Nam, Bac Giang Province. When coming to Viet Duc University Hospital, his penis was bruising and bent. With the same diagnosis of corpus cavernosum fracture, he was operated urgently on 20th October 2020. The tunica albuginea rupture was about 2 cm.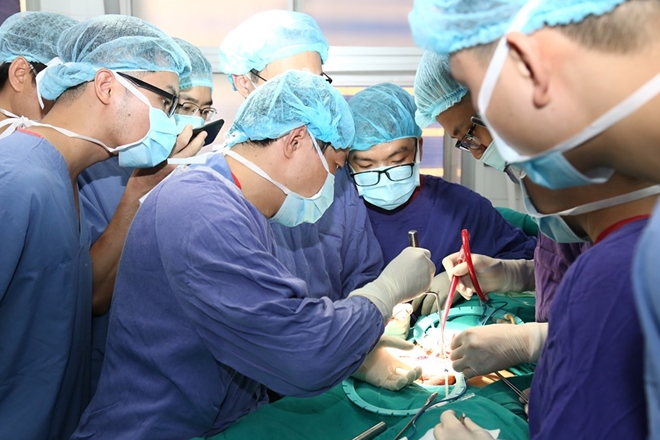 They were both stable in postoperative days and discharged of the hospital on third day after operation.
Mr. BUI Van Quang, M.A, M.D. from Andrology Center, Viet Duc University Hospital said that each month, on average, there were 5 – 6 cases of penile fracture due to sexual intercourse accident or self-bended. Most cases came to the hospital early because of the concern for the health of their "little boy" but some patients came so late with complications that affect to the treatment, might lead to later sequelae.   
Ass. Prof. NGUYEN Quang, Director of Andrology Center, Viet Duc University Hospital shared that penile fracture is a frequent emergency in andrology with various causes but the most common causes were self-bending or after sexual intercourse, especially for couples who tried with "strange, unique" positions. Without timely emergency treatment, it might lead to complications affecting patients' life such as erectile dysfunction, bent penis, formation of fibrotic plaques… So, when the diagnosis was made, emergency surgery should be performed soon in order to avoid those complications and make the penis will be recovered normal functions.
Corpus cavernosum fracture is a traumatic injury caused the tear of fundiform ligament surrounding the corpus cavernosum resulting internal bleeding under penile fascia or rupture of both superficial and deep penile fasciae caused  the subcutaneous hematoma in the scrotum, perineal, inguinal and supra-pubic zone when the penis was erect. 
Doctors recommended that for any abnormal signs of the "little boy" during sexual activities, patients should go to a medical facility immediately for timely examination and  management.